I was very excited by all the deals at CVS this week and I went many, many more times than is healthy. But I got some AWESOME deals!! Here we are for starters: I had to hit that Pampers deal ASAP! I did it in two transactions.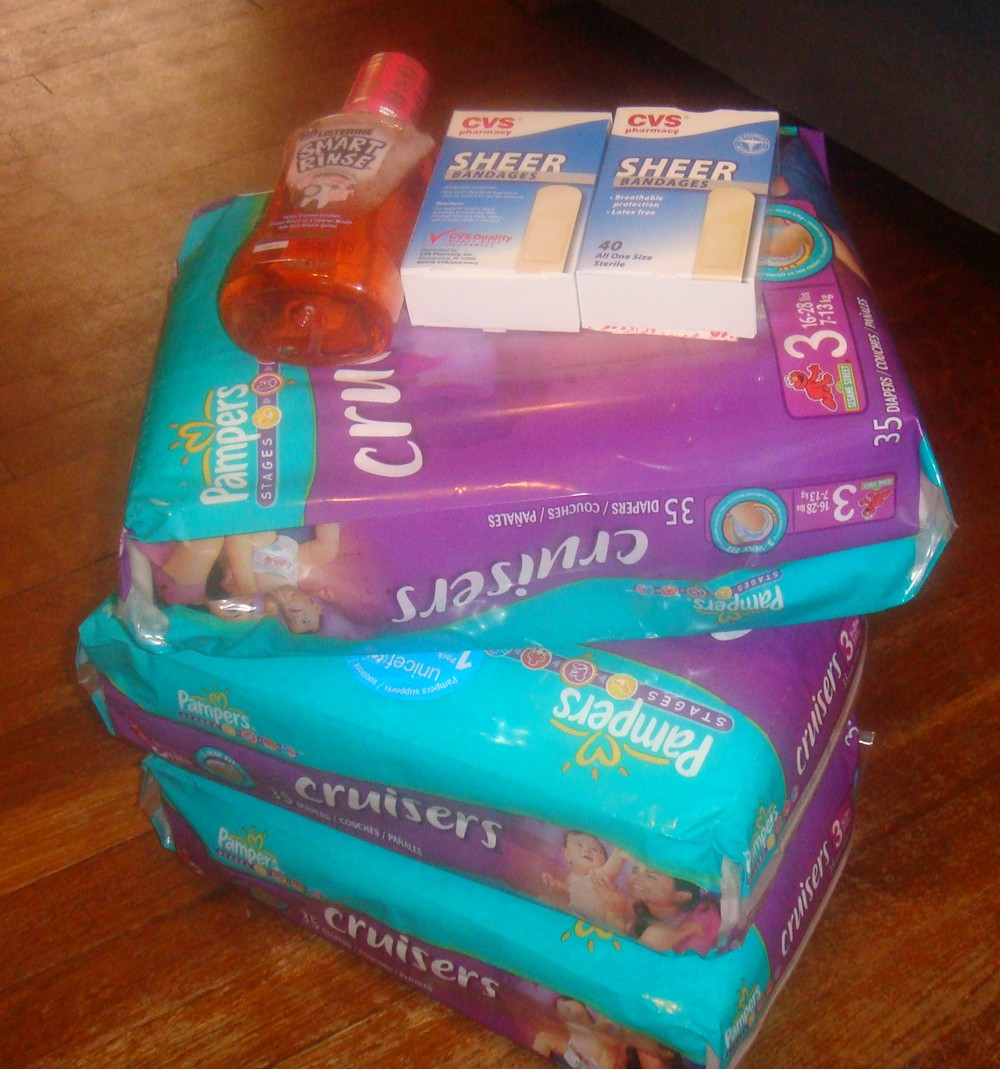 Transaction #1:
1 Pampers $7.99
1 Listerine $3.49
2 CVS bandages $1.99 each
total= $15.46
Coupons I used:
CVS $5/$15
Pampers $1.50 off (from Cheerios box)
total = $8.96
I paid with $9 ECB, adjusted down to $8.96, paid 21 cents cash and got $7.47 ECB ($3.49 for the Listerine and $3.98 for the bandages).
Transaction # 2:
2 Pampers @ $7.99 ecah
Total – $15.98
Coupons I used:
$5/$15 CVS coupon and $2/2 Pampers coupon
total = $8.98
I paid with $8.99 in ECBs adjusted down to $8.98 and paid 14 cents cash and got 5 ECB back for buying the Pampers. YAY!!! I LOVE free diapers!!!
Later in the week, I went back to get some more deals: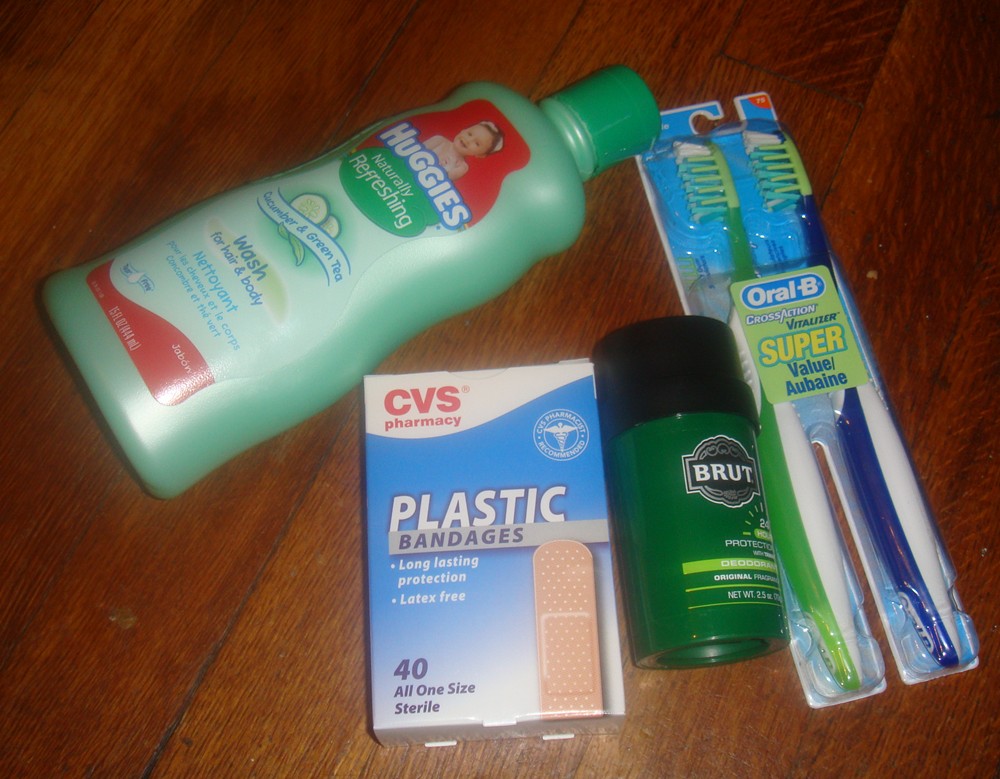 1 Huggies wash $3.49
Oral-B 2 pk toothbrush $6.99
CVS bandages $1.99
Brut deodorant $3.19
total = $15.66
I used CVS $5/$15 coupon
$1 off Brut coupon
$1 off Huggies wash coupon
total = $8.66
I paid with $8.58 in ECBs and 23 cents cash an got back $11.99 in ECBs, 2 for the Huggies wash, 3 for the Brut, and 6.99 for the toothbrushes!
Finally, I found that Charmin/Bounty deal too good to pass up, so I bought this:

Two Charmin @ $4.96 each
Two Bounty @ $4.96 each
Total = $19.84
I used the CVS $5/$15 coupon
Two $1 off Charmin coupons I got in the mail awhile back
Two 25 cents off Bounty coupons
total = $12.44
I paid with 12 ECBs 54 cents cash and got back 10 ECBs
Allright, now that I've beat CVS to death, on to MEIJER!! They were having one of those fabulous 10 for 10 sales this week! Here's a sampling of what I got: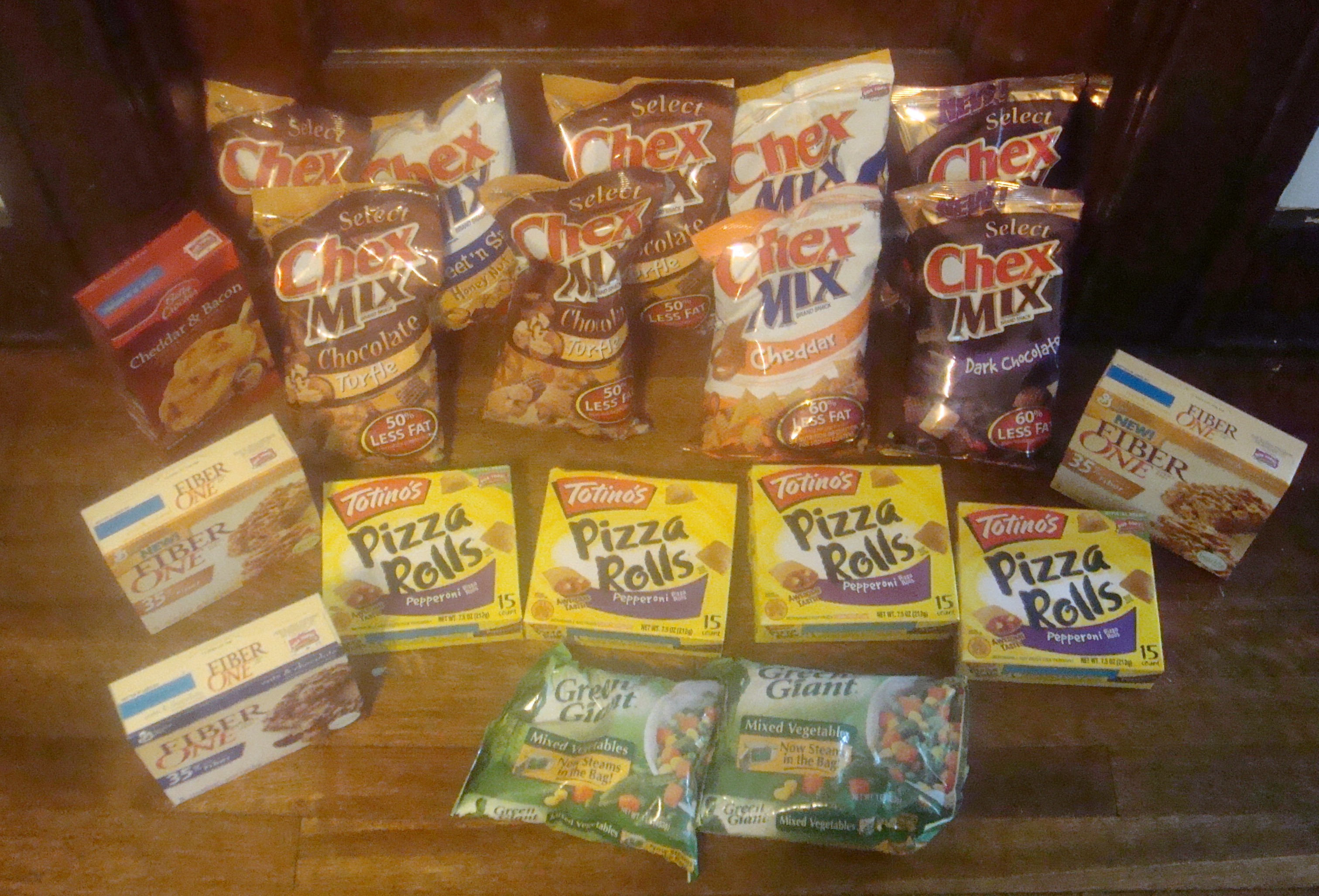 The 9 bags of chex mix and 4 boxes of pizza rolls were all FREE with doubled coupons!! The Betty Crocker potatoes were FREE because they were my 11th item, and the sale was 10 for 10 and get the 11th FREE! The Fiber One bars were 80 cents a box with doubled coupons, and the Green Giant veggies were 50 cents a bag with coupon. Sooo….I paid $3.40 for all this!! Isn't that GREAT?? But it gets BETTER! Later in the week, I was able to get some more coupons, so I went back and got 5 more FREE boxes of pizza rolls (or FREEZA rolls as I like to call them now) and 4 more bags of FREE Chex Mix!! And just so you know, I am not a total glutton, I am taking all the Chex Mix on my family vacation this weekend with my 15 closest relatives, so I promise to share.
Well friends, that is it for me this week, so everyone jump on over to CVS Superstars at the Centsible Sawyer to see more victims of OCD (Obsessive CVS Disorder) at work!! And for more amazing savings, check out Super Savings Saturday at Money Saving Mom!