I love to read.  I'm not sure I've talked much about my reading habit on this here blog, but I am pretty much always reading something.  I love it all: novels, biography, historical fiction, and non-fiction.  I've loved reading since I was a child, and I hope my kids come to love it as much as I do.
Recently I've been reading a lot of historical non-fiction.  Despite my poking fun at Emily for her desire to further her education, I've been furthering my education unofficially with history books for years.  I love learning about the past, and I love switching from subject to subject.  I love thinking of something I'd like to know more about, looking it up on my library's online site, and reserving a couple of books on the topic.  If I were going to go to graduate school just for funzies, I'd totally get a degree in history.  Obviously, just for pleasure, and not for practical reasons.
So.  I thought I'd share with you some of what I've been reading lately.
Recently I re-read a book my mom had loaned me a couple of years ago called Slaves in the Family. It was written about a dozen years ago by Edward Ball, a white man whose family had been one of the largest slaveholders in the South, rice planters from the South Carolina low country.  By the time he was born, that was all long gone, but as an adult he set out to learn about what had happened to the descendants of his family's slaves.  It was a fascinating read!  I learned a lot from it, and was happy to learn that Ball had written another book, about the family of an African-American woman he had might while researching Slaves in the Family, who was a very distant cousin of his.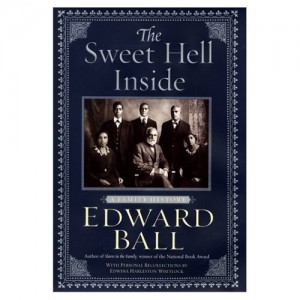 It's called The Sweet Hell Inside and it's the story of a mixed-race family, the Harlestons, who lived in Charleston, South Carolina in the decades following slavery's end as part of a small group of the city's "colored elite".
They were undertakers, and made their fortune because no white undertakers would handle the remains of black citizens.  The Harlestons had more money than many whites but still struggled mightily against the racist laws in place at the time.  They were wealthy, cultured, well-educated, and – forced to live as second-class citizens outside of their own neighborhood.  Yet, it should be noted, that they were light-skinned and snubbed other African-Americans with darker skin, thus propelling discrimination instead of ameliorating it.  Ball's narrative, with recollections from a Harleston family member Edwina Harleston Whitlock, is a really fascinating and heartbreaking read.
After reading Ball's two books, I decided I wanted to read more about how slavery and race relations affected a specific family, so I reserved and read Annette Gordon Reed's Pulitzer-Prize winning The Hemingses of Monticello, about the family enslaved by Thomas Jefferson (though they came to him through his marriage to Martha Wayles, having belonged to her father.  He had plenty of slaves of his own before he married, however.)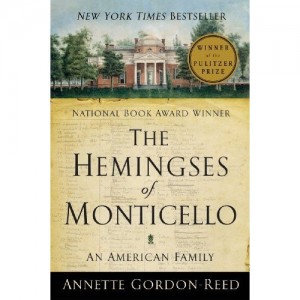 The book details the lives of many members of the Hemings family and the social context in which they carried out those lives.  The most famous Hemings is Sally, who was Jefferson's wife's half-sister (her father's child with one of his slaves) and whom Jefferson took as a "concubine" (if you will) after his wife's death (even though she was about the age of his own eldest daughter.)  He and Hemings had seven children together, four of whom survived infancy.  Three of those four left Monticello to "pass as white" – leaving slavery with Jefferson's blessing to live in the white world (Sally Hemings was also mixed-race, and her children with Jefferson, being only 1/8 "black" were "white enough" to pass somewhere far away from home.)
Hemingses was dry in parts but so, so thorough and really, truly heartbreaking.  The lives of the Hemings men – Sally Hemings' brothers and nephews were very fascinating.  Jefferson had many of them trained as artisans and allowed them to work on their own and keep their earnings when he himself was traveling away from Monticello – so long as they would hop to it as soon as he called for them.  To this end, he allowed them to get tastes of freedom many times – but it was always temporary.
So there's a brief summary of what I've  been learning lately.  Next up, I've decided to conquer World War 2 Germany.  What books have you had your noses buried in?