As I mentioned last week, Joshua just turned 11. I was way behind on his birthday party stuff because of the crazy, sad February my family had. Plus, despite being a working mom for a full 6 months now, I cannot figure this working  mom thing out. My work-life  balance is non-existent. But oh well! I love it, and I just signed a year contract so that is happening!
Anyway. As you may or may not  know, I gave up trying to make my kids fancy birthday cakes years ago! Until…Jonah and I both went gluten-free. I also have a nephew who attends all these birthday parties who is gluten-free, so that means making either cupcakes or cake from scratch. For this party I made GF cupcakes, and since Kroger doesn't do licensed Minecraft cakes and my time and resources and quite frankly energy was limited, I turned to Pinterest for the "real" cake. I know what you're thinking – STEP AWAY FROM THE PINTEREST! IT WILL ONLY MAKE YOU FEEL WORSE!
No worries. I put my "I am only looking at the easiest possible things" blinders on before I went to Pinterest. IT worked! I found an easy cake and cupcakes and felt no shame. So, I present to you, a slacker mom's minecraft birthday party creations. Step. By Step.
Step 1: Go to Pinterest. Find easy things.
Step 2: Find a picture of a creeper face, download it and print it x 12.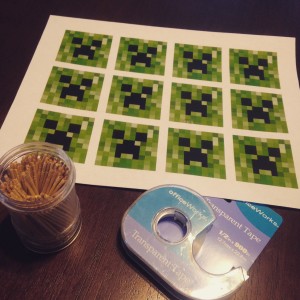 Step 3. Attach cut out creeper faces to toothpicks with tape.
Step 4: Insert into cupcakes with green frosting.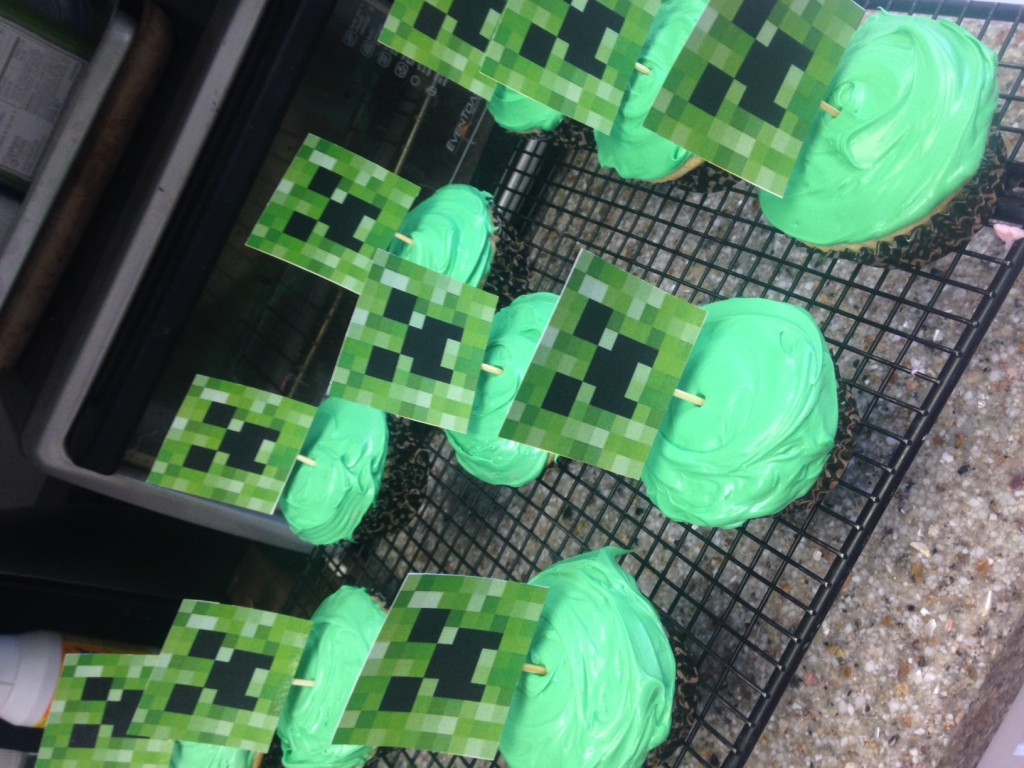 Step 5: Return to Pinterest. Look for a full-sized cake that even a kindergartener could decorate.
Step 6: Bake a rectangle cake, cut it in half, and slap some frosting between the layers.
Step 7: Frost it creeper green. OR, in my case, whatever green a capful of green food coloring yields, because you AIN'T GOT TIME TO MIX THE PERFECT SHADE OF GREEN. Gah!
Step 8: Have your husband cut up a Hershey bar and arrange it in a creeper face pattern on the cake, because even though it's easy enough for a kindergartener, you'd still mess it up, and you only bought two Hershey bars, and you are NOT going back to the store for another one.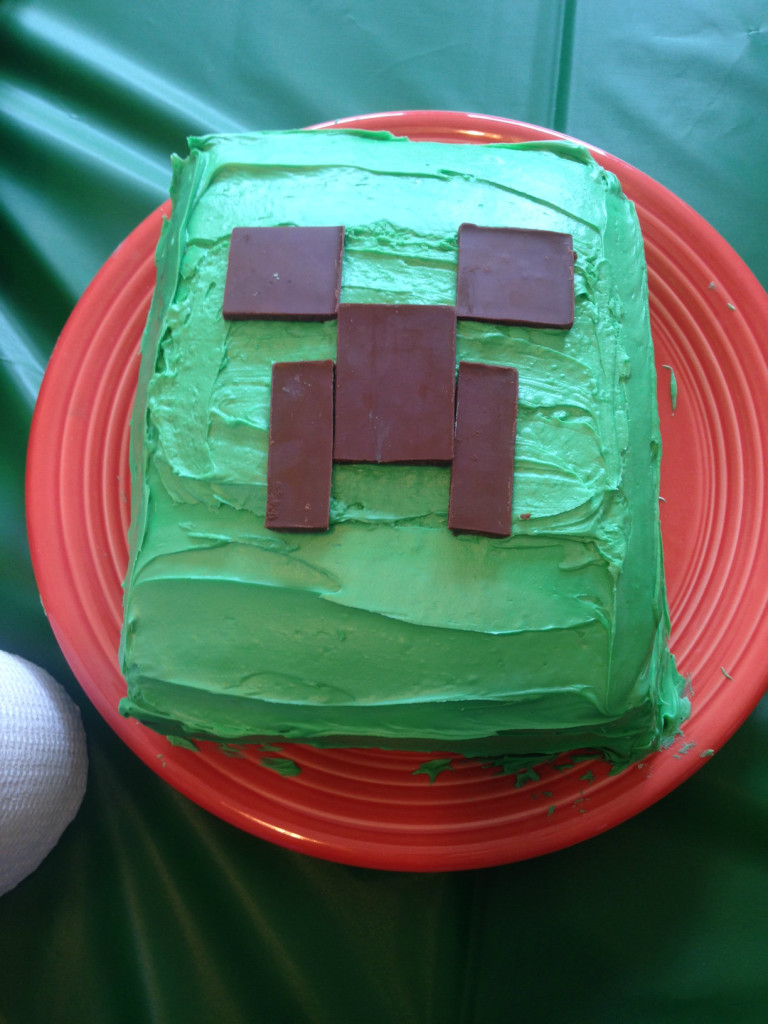 Step 9: Whine on Facebook about how you are terrible at this party theme thing and make sure and say what theme you are doing  because people will give you their ideas! Complete with photos!
Step 10: Rip off the easiest idea
Step 11: GO to Google images and get images of minecraft supplies that correspond to the snack items you have purchased for the party.
Step 12: Download and print pictures.
Step 13: Attach them to snack bowls and fill them with snacks.
Step 14: Take a picture to show everyone how amazing you are! Post it on ALL social media channels.

Step 15: Relax and enjoy the party! Make sure and cut people off in the food line so you can sample your own hard work before those ingrates eat it all.
The. End.
You're Welcome!