You guys remember last year when I amazed you with the tale of my 13-year-old nephew, Drew, who can solve the Rubik's Cube super-fast? And is in fact, the stinking WORLD CHAMPION on the Pyraminx – Rubik's pyramid-shaped puzzle?  Well, he's 14 now and he's ready to break some more Rubik's records at the Rubik's U.S. Nationals in Jersey City, New Jersey in just over a week. Of course, being a dedicated FanAunt, I am super proud of him! So proud, in fact, that awhile back I started helping him look for a sponsor he could work with to help fund his trip to Nationals – New Jersey is not exactly in close proximity to Ohio, right? Like every "sport", competitive cubing has its price. And Drew has a lot to offer -he's a rather popular cuber with a great YouTube following. And who could resist this face, really?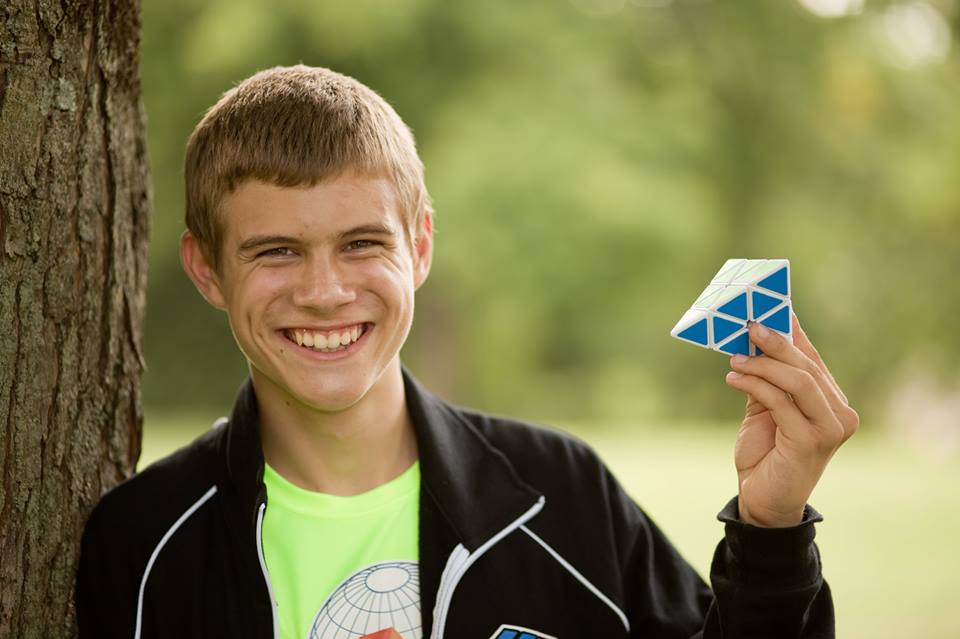 Shortly before I began reaching out to potential sponsors for Drew, I heard about a new video review site for kids called KidzVuz.com. I didn't dig deep to see what they were all about until a friend I met at iRetreat and I were talking and she suggested they might be a good fit for Drew – and a major light bulb went off – why hadn't I thought of this before?
Long story short, in less than a week, KidzVuz agreed to sponsor Drew for his trip to the Rubik's US Nationals, and I began learning about this truly awesome site. It is SO much fun for kids – Joshua is well and truly addicted. I am excited to tell you about KidzVuz. But first, A LOGO!

KidzVuz is a site that is video reviews by kids, for kids age 6-14. It is 100% moderated, so it's safe and bully-free. Kids can make video reviews of things they love AND watch other kids' reviews to get their opinions on things, too! I love it because it's just a very positive kid community – with complete adult moderation – so kids can express themselves safely and really let their true colors show. So far Joshua and Sophie LOVE KidzVuz – I haven't made Sophie an account to make videos yet, she's mostly interested in watching them. But Joshua, that boy is my star reviewer. He LOVES making them (he had uploaded three so far and he has oh, I don't know about ELEVENTY BILLION on my iPad that I haven't gotten uploaded yet because I cannot keep up with him!!) If you want to check out his major cuteness and his opinions on Mario Kart 8, Diary of a Wimpy Kid, and Super Smash Bros. check out his channel! Notice he doesn't use his real name – that's not allowed. It's so very safe!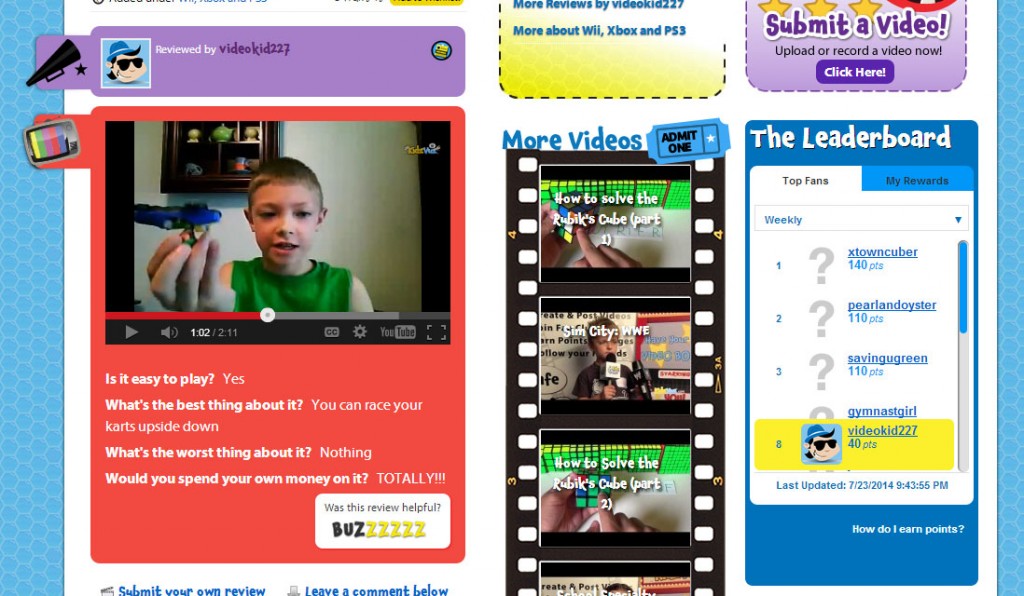 (Side note: whenever I watch his videos I grin the entire time. He's SO CUTE! He's a novice at this but I think he is going to make some really awesome video reviews in the coming weeks!)
I can't tell you how much I love KidzVuz so far. Of course, any business that had the wisdom to see the value in supporting Drew in his Rubik's dreams already had some credit with me – but actually using the site has been fantastic for my kids and me this week. I've seen personality come out of Joshua that I did not know was in there – and I LOVE it! He is so confident in front of the webcam in a way that he's not in front people. I love it so much that I texted this to Emily a couple days ago: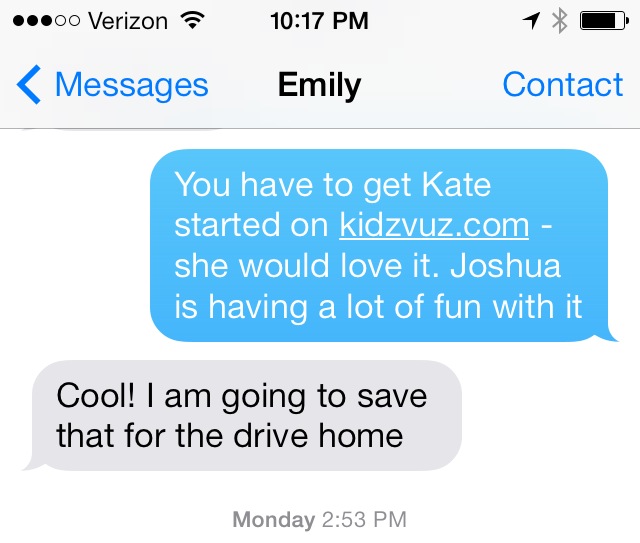 And here's another great thing about KidzVuz: back when Drew was 9 years old and bought his first Rubik's Cube, he turned to the internet to learn how to solve it. But of course, with HEAVY supervision from his parents. Because kids can't just search the internet, yo. In case you hadn't heard, it is NOT SAFE. Now, just a few short years later, kids have an entirely safe site where they can go to learn how to play their favorite video game, watch a tutorial on how to upcycle a t-shirt, or find a sweet hack for Minecraft. SAFE!! How awesome is that? It's not just awesome, the value is really priceless. On another yet really important note, I have loved working with the women behind KidzVuz, Rebecca and Nancy, to coordinate Drew's sponsorship. You guys, the people behind this company are awesome people and they care about your kids.
And thanks to Drew, motivated kids an also go on KidzVuz to learn how to solve a Rubik's Cube – he made three very detailed 10-minute tutorials in a series. If you've got an aspiring cuber on your hands, he or she just needs to watch each video a few times. That's how Drew learned to cube – tutorials and tons and tons of practice! You can check out his videos here on his KidzVuz channel.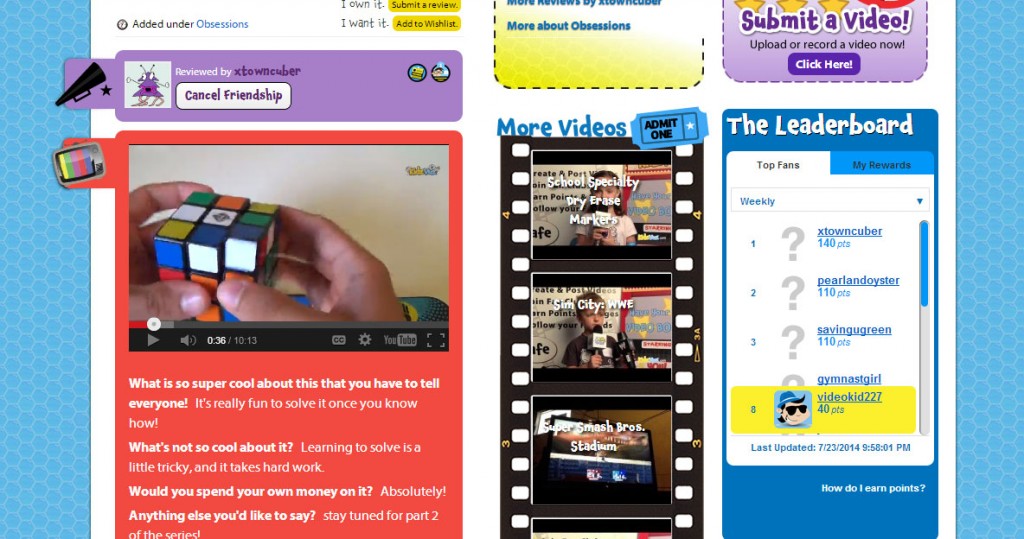 Here, Drew is demonstrating a fast solve of the Rubik's Cube – 9.71 seconds. You know, as you do.
I am SO excited for Drew to have a great competition at the US Nationals August 1-3! His goals is to retain his #1 spot on the Pyraminx and hopefully break the World Record for the Pyraminx as well as solve the "regular" Rubik's Cube in under 9 seconds. I will of course, be keeping you posted on his progress. By SCREAMING ABOUT IT LOUDLY ON THE INTERNET!
Thanks KidzVuz for sponsoring Drew and for ALL you to do ensure our kids have a safe, fun, video review site to call their own.
Do your kids like rock out in front of a web cam? Get over to KidzVuz and sign them the heck up!!