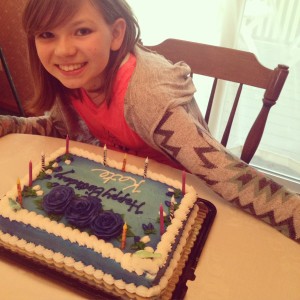 My Kate turns 11 today.
I'm having trouble with that, to be honest.
It feels like we're on the precipice of an entirely new stage of parenting and our relationship with her, and I'm not sure I'm equipped to deal with it.
I really don't want to screw her up.
Also, eleven. That's like 61 percent to adulthood, yet she's still very much a kid.
Even her birthday presents reflect this weird in-between stage. A board game and a movie… a comforter and a pair of shoes. All at her request.
I really don't know how to do this. Just thinking about it makes my heart pound.
But, I'll do my best to figure it out. And, as she navigates the bumpy road of adolescence, I'll do my best to show her the grace she's always shown us as we've fumbled our way through this parenting thing.
I love you, Kate. Thanks for being you.