Drew Brads                                                                                              
FOR IMMEDIATE RELEASE 8/01/14
Xenia Rubik's Cube Champ Breaks World Record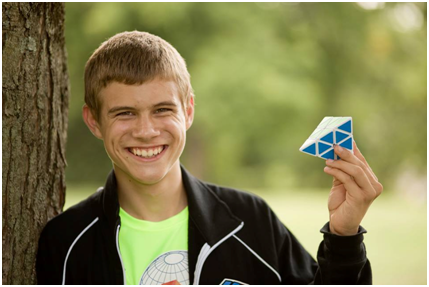 Photo: Aaron James
Jersey City, New Jersey – 14-year-old Drew Brads of Xenia, Ohio set a new World Record average time for solving the Rubik's Pyraminx puzzle at the Rubik's U.S. Nationals Competition today in Jersey City. Brads solved the Pyraminx with an average time of 2.90 seconds in the first round of competition. The previous record was 2.96 seconds.
Brads is also the North American Record holder for a single-solve on the Pyraminx, with a time of 1.71 seconds, a record he has held since 2012.
Brads will compete in the Rubik's US Nationals for two more days in the next rounds of the Pyraminx event as well as the 3×3 or "regular" Rubik's Cube and the 2×2, 5×5 cube, and Skewb events. He is at the U.S. Nationals thanks to a partnership with kids' video review website KidzVuz.com, a safe, fully-moderated, bully-free site for kids 7-14.
Of his Pyraminx World Record set today, Brads says: "This achievement has been my goal for more than 2 years, and after so many near misses and disappointments, I am truly thrilled to have this accomplishment. Another huge thanks to Kidzvuz.com for sponsoring me."
Brads will return to Xenia after the Rubik's U.S. Nationals concludes on Sunday. You can catch him cubing live and in person at the Dayton Metro Library summer Party in the Park on Saturday August 9th from 1-3 PM outside the Main Library in Cooper Park.
To see more of Brads' cubing skills online, you can him at http://kidzvuz.com/xtowncuber and http://youtube.com/xtowncuber. You can find his live official competition results from the Rubik's Cube US Nationals at http://www.cubingusa.com/usnationals2014/results/live.php?cid=575&compid=158.
For interviews, contact Drew Brads at 937-344-8995 or armstrongbrads@netzero.com. For more information on KidzVuz, contact co-founder Rebecca Levey at Rebecca@kidzvuz.com.
###