Dear readers, it's hard to believe, but this little blog is really GROWING UP! This coming Wednesday, June 18th, will be our ONE YEAR BLOGAVERSARY! I seriously cannot believe it. We have had such a great time blogging together this past year. So, in celebration of this MOMENTOUS event (really, can you think of ANYTHING else more important that will be happening this year? I can't!!) we want to ask something of you and we want to GIVE something to you! First the asking: this week we would like you to do two things for us! 1) De-LURK!! Leave us comments!! Let us know who you are and how long you've been lurking! 2) Ask us anything! This week we will be answering reader questions. So please email us your most burning questions to either one of us at jenny [at]momminitup[dot]com or emily[at]momminitup[dot]com. Please do it or we will have nothing to blog about next week. YIKES! That could be embarrassing. And far be it from us to embarrass ourselves in front of the whole blogosphere…oh wait…
Anyways, on to the GIVING!!! We are having a GREAT giveaway with TWO great prizes!! The first is from our AMAZING friends at everyone's favorite store, Target. The folks at Target are offering one of you this AMAZING diapering basket, worth over $100, FILLED with Target products!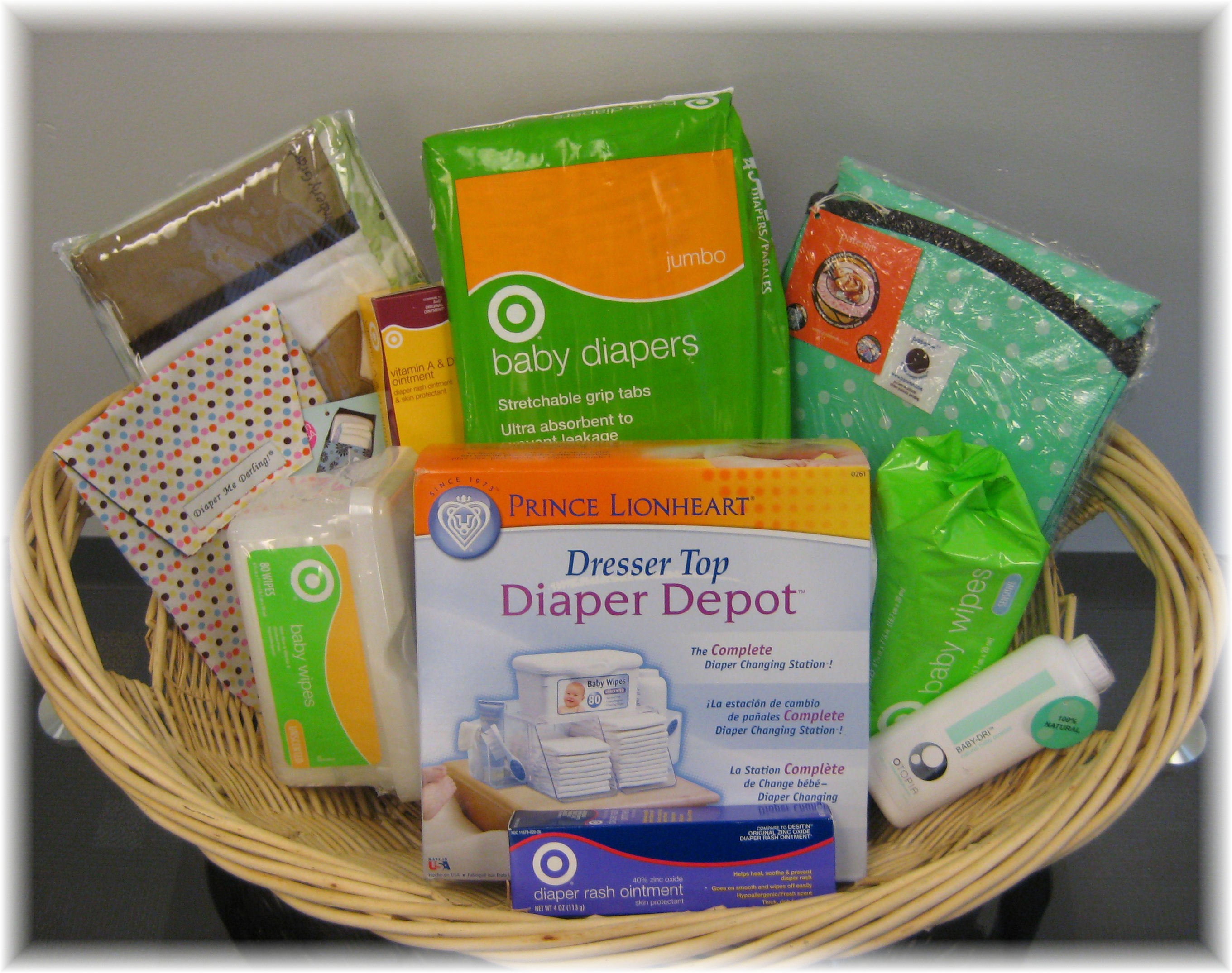 In this basket, you will find:
– Target Baby Diapers
– Target Baby Wipes
– Target Vitamin A & D Diaper Rash Ointment
– Target Zinc Oxide Diaper Rash Ointment
– Diaper Me Darling Diaper Wallet (dangit I want one! Why can't I win!???! It's my Blogaversary! Waaah!!!!!!!!!)
– Patemm Diaper Changing Pad (GRR! I want one of these TOO! That's it, I'm rigging this thing!)
– Otopia Baby Dri Natural Baby Powder
Ok, so that's the GRAND PRIZE in our contest, thanks to those awesome peeps at Target!! But we also have a prize for the runner-up, from Emily and I! It's a…you guessed it…$25 CVS gift card!! If you are a CVSer and you win, congrats! Go crazy! If you are NOT a CVSer and you win, you will have the choice of us just sending you the gift card, or you can give me a list of things you want/need/use and see how much I can turn $25 into for ya. It's up to you!!
To enter our Fa-blog-ulous Blogaversary Giveaway, all you have to do is leave a comment on THIS post by midnight Friday June 20th! We will pick the winners by Random.org on Saturday the 21st. If you want to gain a SECOND entry, post about and link to this contest on your blog and leave an additional comment letting us know you have done so. That's all you have to do! Now, ready, set, Comment! De-lurk! Enter! and don't forget to EMAIL US YOUR QUESTIONS!!
We love you dear reader readers!