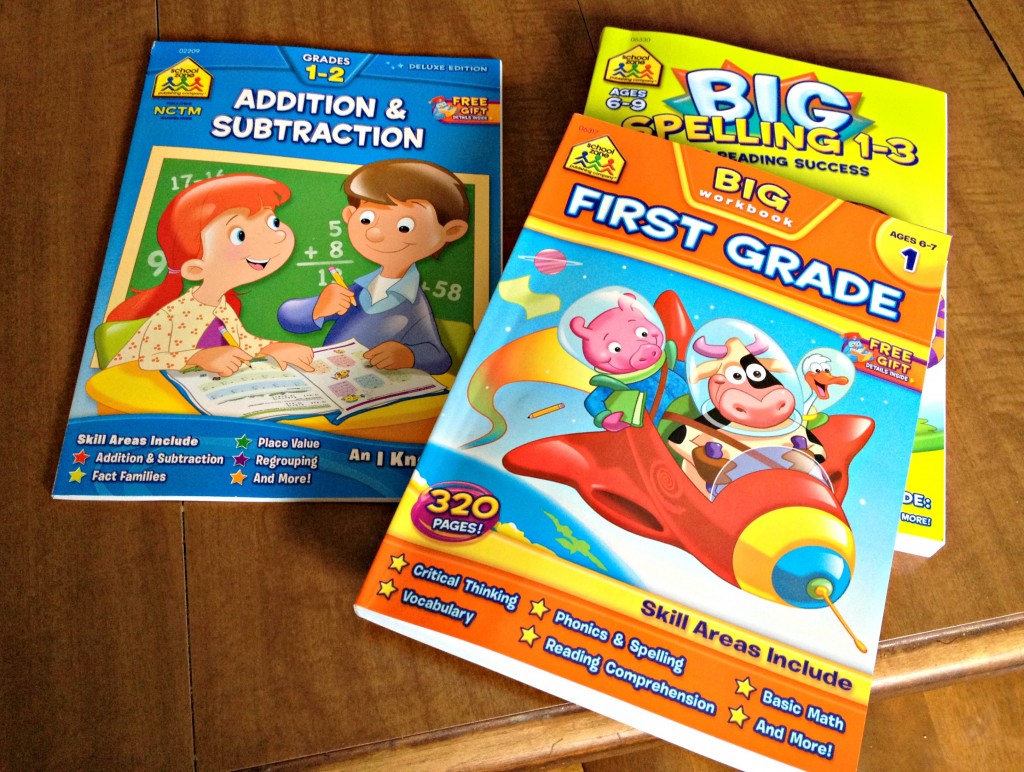 It's officially MID-summer, and if you're like me you're counting down the days to back-to-school (*cough* a mere 37 for my big kids!! *cough*). Or maybe you're a FUN FUN FUN mom and you can't get enough of summer. Or, perhaps, you are a homeschool mom and you're dreading getting back to work. Whatever the case, it's time to start getting the kiddos' brains primed for school again. So, when School Zone Publishing came to me and asked me to review a few of their workbooks and give away a copy of what I'd reviewed I was all, "SURE!" Because honestly, Sophie, my little school girl, LOVES workbooks. She does. Girlfriend loves to learn!
We used several School Zone workbooks when I was helping Sophie work through her developmental delays, and when she wanted to learn to read at age 4, we used School Zone's Start to Read series. So I'm very familiar with their products, and I think they're great! I'll tell you more about why I like them here in a second.
Since Sophie is going into the first grade, I chose the all-inclusive Big First Grade Workbook, Grades 1-2 Addition & Subtraction, and Big Spelling 1-3 Workbook. I wanted to get her some workbooks that would last a while, that she'd be able to use not only this summer but throughout first grade and beyond. I was particularly interested in the spelling book because although Sophie is a great reader, it does not appear as of yet that she is going to be a naturally good speller like Joshua is. So, I want to start practicing with her now. I know we'll be studying for those first grade spelling tests!
I am really pleased with all three of these workbooks, particularly because of the creative presentation. The math book is not just about math facts; it's full of all kinds of math activities so kids don't feel like they're doing the same things over and over. Likewise, the spelling book teaches has so many different games, and it teaches more than just plain old spelling. It uses inferences, crossword puzzles, word searches, mazes, and rhyming games to teach all sorts of skills. It's definitely Sophie's favorite of the set!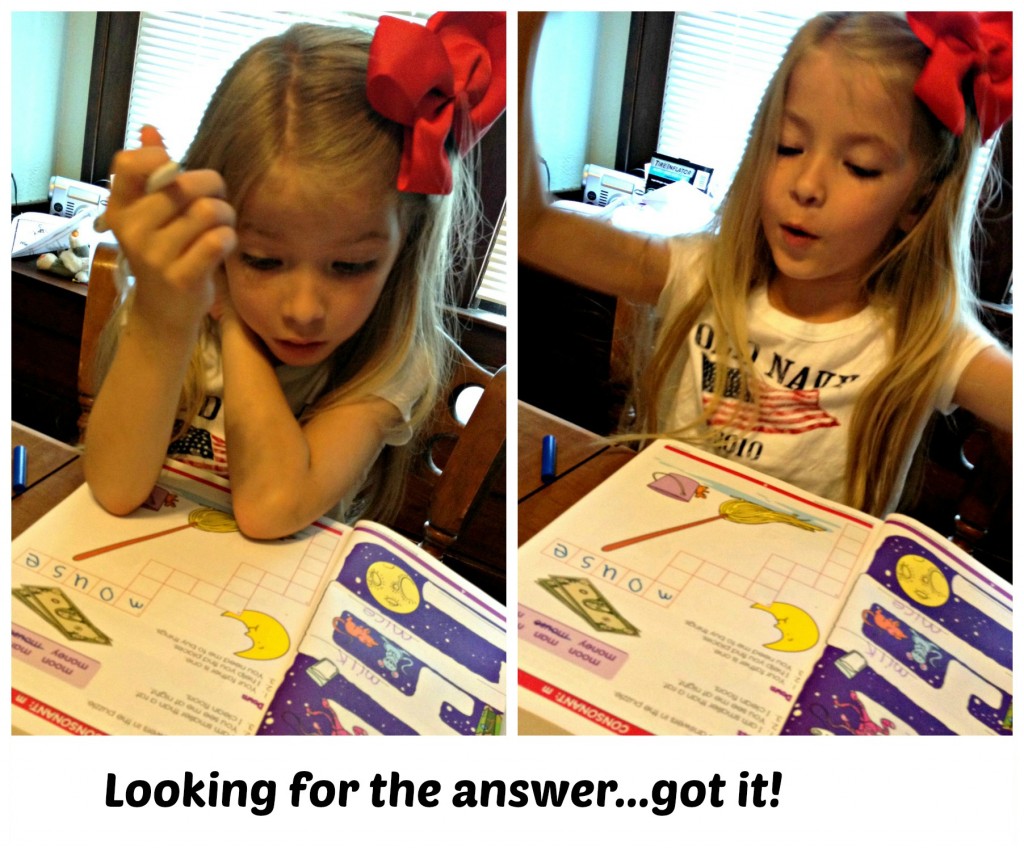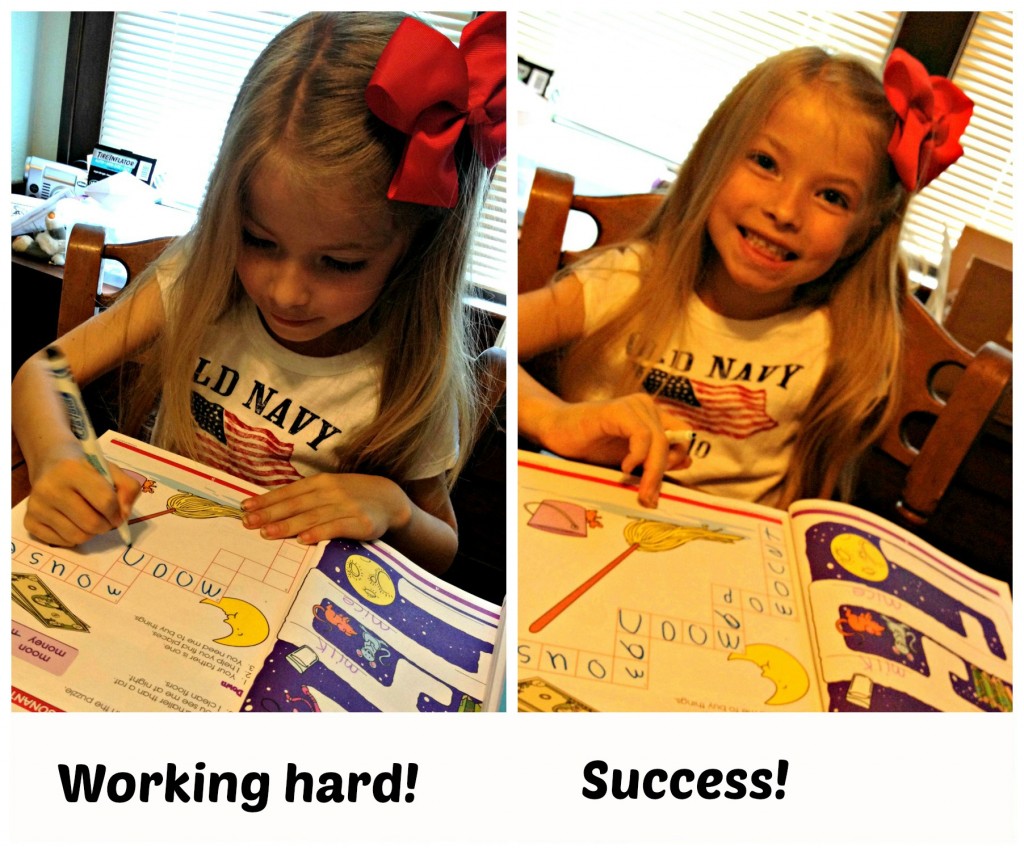 I have definitely seen Sophie's word recognition and handwriting improve since we started using the spelling book in particular, and I am so glad she enjoys practicing in this fun way! I think she's going to do just fine working on her spelling words this fall.
Want to try out School Zone for yourself? One lucky winner will win all three of these books! To enter, all you have to do is hop over here to School Zone's Facebook page.  Just a couple clicks and you'll be entered to win your own set!
Thanks, School Zone, for the work books to review. We are loving them!