I've recently discovered Yummie Tummie shapewear, and I love it! Yummie Tummie is the first shapewear brand that is comfy, sexy, and meant to be seen. It really is comfortable enough to wear every day – I've worn mine daily for about three weeks, and it's not something I dread putting on. Also, unlike some other shapewear I've tortured myself with worn, I don't break a sweat trying to put it on! It stays in place, keeps everything sucked in, and… did I mention it's comfortable?
Here are the details: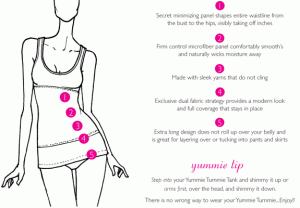 Yummie Tummie has been featured in Cookie Magazine, People Magazine, and it was one of Oprah's "Top Picks" last summer. Need I say more?
Probably not, but I will anyway.
Yummie Tummie is PERFECT for the post-holiday haze we're all in right now. But they're not jumping on the New Year's resolution bandwagon. Oh no. Their motto is eat, drink and be yummie. I'm in favor of that!
Here's a little more about their current promotion:
Heather Thomson, the celebrity stylist who has dressed Beyoncé, Jennifer Lopez and P. Diddy, and the founder and designer of Yummie Tummie recognizes that we need to overindulge now more than ever. And who better than Yummie Tummie to bring it to you, because when you've had your fill – and then you've had some more – Yummie Tummie has you covered! Yummie Tummie, the new leader in shapewear, will visibly slim, shape and smooth you. It's the first shapewear on the market that is actually comfortable enough to wear all day and evening. Visit www.EatDrinkandBeYummie.com for a full list of all your favorite overindulgences, rate your favorites, and upload new indulgences, and find recipes to all your favorite treats.
And here's the best part – we're giving away a $100 gift certificate to YummieTummie.com!!! All you have to do to enter is to leave a comment telling us about your favorite indulgence.
The contest will end at 5:00 p.m. on Tuesday, January 13, and the winner will be chosen using Random.org. Good luck!
Eat, drink, and look good doing it – works for me! For more WFMW tips, head over to Rocks in my Dryer!