I've tried a number of new recipes lately (thank you, Pinterest) and while they haven't all been hits, I've found two I absolutely loved and wanted to share.
The first is "Tangy Slow Cooker Pork Roast" from AllRecipes.com.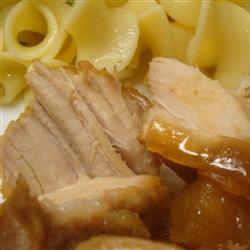 This pork roast is so good, I can't even do it justice. Andy and I absolutely loved it; he said it was better than any steak he's had in a long time (and the kids ate it too – I told them it was chicken). And it was so easy. As you may recall, I shy away from slow cooker recipes that require more effort than tossing everything in together. If I see I have to sear the meat or some such business, I move on to the next recipe. With this one for pork roast, all I did was slice an onion, put the meat in the slow cooker, and mix together an easy marinade. I served it with egg noodles and broccoli… holy yum.
The other recipe that I loved is from Cooking Light – chili corn chip pie.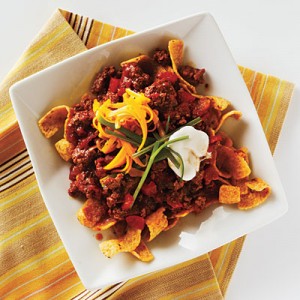 It's an at-home, slightly-less-fattening and sort-of-classed-up version of our swim team season staple, the walking taco. As I was cooking it, I said to my dad and Andy, "I have a feeling what I'm making is really complicated taco meat, and if it doesn't taste any better than when I through a packet of Ortega seasoning in there, I'm going to be mad!" (Note: It wasn't complicated – remember, this is me we're talking about.) Fortunately, it was worth the (minor) effort. It was great – we all gobbled it up. I recommend making a double batch to ensure leftovers!
Those are a couple of my new favorites, but I want to hear from you. What recipes have you stumbled upon lately, or what are your old favorites?