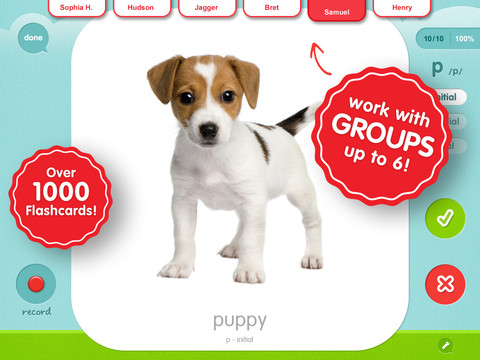 A few months ago,  I began following Heidi Hanks' blog, Mommy Speech Therapy.  Heidi is a Speech Language Pathologist and mom of four (including her own five-year-old Sophie! We have so much in common:) ).  Last year she started slowing down on blogging to start her own company, Little Bee Speech, and work on developing a speech therapy app for the iPad, Articulation Station.  I eagerly awaited the debut of this app because I knew it was going to be great.  I downloaded it right away, but since Sophie was only going to need to work on one or two sounds, I contacted Heidi about doing a review of the full version to share with you, so I could check out how all the sounds and blends worked within the app.
And. It is. AMAZING.  If your child has any articulation issues at all, you need to get this!!  The app is free to download, then you can purchase what sounds your child needs to work on, for $2.99-$5.99 depending on the sound.  And this month, until March 31st, all the sounds are 40% off!  SUCH A GREAT DEAL!  I cannot even tell you how worth every penny these sounds are.  Sophie and I have been working on the "L" and the "Th" sounds.  Because her delays were mostly language rather than speech (i.e. she was easy to understand, articulation was pretty good, but she had trouble conversing, and answering questions), articulation was the very last thing she worked on before getting discharged from speech.  We use Articulation Station at home because it is FUN and it's keeping her polished, and helps her remember the good new speech habits she has formed.
Here's what's great about Articulation Station:
A fun variety of activities: beautiful picture flashcards, great matching game, fun sentences and stories
Very interactive- the child can operate the activities
SO many options – for each sound you can choose whether to work on the sounds at the beginning, end, or middle of the word
Easy to track and save results
The child can record and play back his or her voice to hear how they are pronouncing sounds
This app works in groups of up to six, so it's awesome for use in schools
I feel like my description is not doing this app justice; it really could not be any more brilliant.  It's BRILLIANT!  And fun, easy-to-use, and gets results.  Sophie and I love it.  With all the flashcards, matching games, sound options, and stories and sentences, there is always something new to play and learn every time we open the app. She will even open it up and play on her own.  It's awesome!
Here's a short video of Sophie demonstrating one of my favorite features of this app, the "rotating sentences" – with a touch of a button the child can change one of the key words in a sentence.  It's such a fun feature!  Here, Sophie is working on the "th" sound in the middle of the keywords, i.e. "author".  Enjoy!

Again, I HIGHLY recommend this app! Any of the sounds you buy will be worth every penny and then some!
_________________________
Little Bee Speech allowed me to try the full version of Articulation Station for free.  All opinions about the app are my own.