Well you guys, #SpreadsheetThanksgiving was TOTALLY EPIC! In a good way. I think my favorite part about it was that I didn't actually have to host it and I only cooked two things instead of 800 things. My second favorite thing about it was definitely the FOOD. It was awesome!!! Emily really outdid herself! My THIRD favorite thing about it was the company. I mean, our family is pretty great. NOT AS GREAT AS THE FOOD, so they ranked slightly lower, but still pretty great. Here is some photographic evidence of their greatness:
Emily's daughter loves selfies. WHAT MORE COULD I ASK FOR?
Ummm, also. These children are supposed to be babies, not HALF GROWN UPS!
Jonah loves our Grandma. She is pretty darn lovable!
Ok, but moving on. My FOURTH favorite thing about #SpreadsheetThanksgiving was going back later and reading Emily's tweets from the days, and especially the night before. The night before #SpreadsheetThanksgiving was my husband's birthday and I was all at his sister's house celebrating with the Rapsons because YAY! BOBBY IS 37!!! So I was totally oblivious to Emily tweeting things like:

and posting pics like this:
and then tweeting things like this:

OhI'mNOTlaughingiSWEARi'mnotlaughing…
This one made me laugh a little though.

But only because I dropped a bottle of shampoo on my foot and it CUT MY TOE the same day. Sheesh. ANYWAY.
All joking aside, #SpreadsheetThanksgiving ROCKED! Emily totes rocked it, from the place settings
to the gluten-free sweet potato casserole.
And of course, Gibbles the Turkey was delicious. She cooked him REAL GOOD.
It was a super-wonderful day filled with laughing children, incredible overeating, funny Grandmas:

And of course…SPREADSHEETS!!!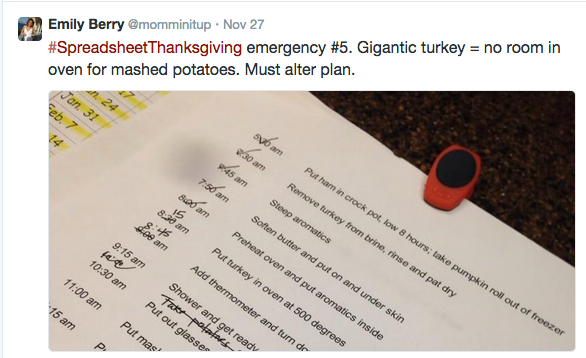 Great job, cousin!  You really earned some mad spreadsheet and culinary STREET CRED!