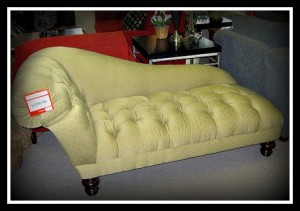 Have you ever wanted a fainting couch in your living room? You know, so when you're having one of those days when things are so desperate that you're making pancakes for dinner, and when you walk into the dining room to serve said desperation food, your toddler has gotten hold of your coupon inserts and strewn them all over the living area of your entire first floor? Not that that's ever happened to me (last night) or anything…but sometimes, I have a day that calls for a fainting couch. But alas, I do not possess such frivolous furniture.
I found it amusing, then, that we had a fainting couch in our room at the Ritz-Carlton Laguna Niguel at the Mom 2.0 Summit. I mean, when my kids are a couple thousand miles away and someone's cleaning up after me every day? I don't need a fainting couch. But there was indeed, a very lovely one in our room, positioned at the end of Emily's bed.
And it's a darn good thing. Because Friday night, Emily had occasion to NEED it. "Why?" you ask? I'm not quite sure. How about I tell you the story, and then you tell ME why.  Here goes:
Friday night we went to a rockin' party given by the CVS ExtraCare people. Say what? A CVS party!?!!? You know that's like my dream come true! We had an awesome time and met some great people. And we got our picture taken, a lot.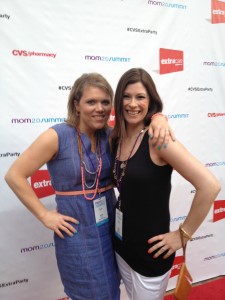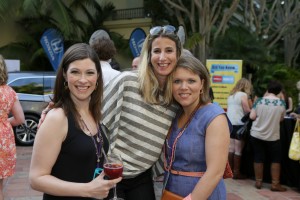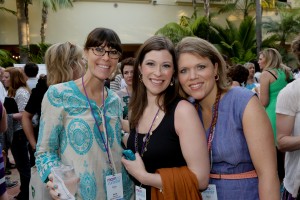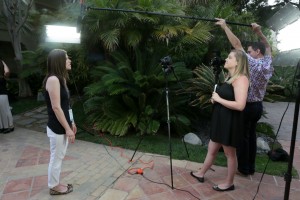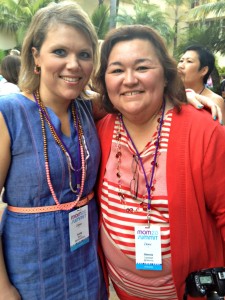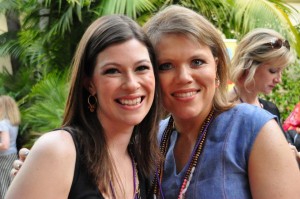 See? LOTS of pictures!
The party was great. But we were hungry, and I'd been surviving on gluten-free slim pickins for a couple of days, so Em and I went out to dinner…by ourselves…because MAYBE we're not as popular as we think we are. But us being us, we had a great time. AND steak. And Emily had a blueberry martini, which MAY have contributed to the next part of this story. The part that involves the fainting couch.
After a delicious dinner, Emily and I headed back to our room at the Ritz. I'm not really sure what time it was…probably before 10 p.m. We entered our room which was quite dark, even after turning on a light. That's my one complaint about our otherwise wonderful room, I felt like it wasn't very well-lit (which makes it difficult to perfectly apply your makeup, which as we all know is very important to me) and I would just like to say for the record that I had pointed that out SEVERAL times already before this incident occurred!
Anyhoo, we turned on the light and found that the nice staffers at the Ritz had left us a little present. This present, in fact. (Picture stolen from everydaymama on Instagram, please don't sue me!)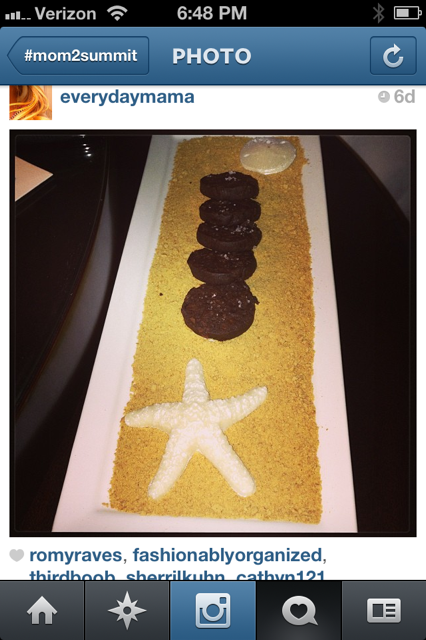 I took a look at this new addition to our room, leaned in really close SINCE IT WAS DARK, and said, "Is that…cookies?" Because honestly, I couldn't tell!
And Emily Berry, well, she lost her fishing mind. She howled with laughter and immediately collapsed on the fainting couch, cracking up and repeating, "Is that…cookies?" and oh, CRYING she was laughing so hard.  Girlfriend was immobilized on the fainting couch. See?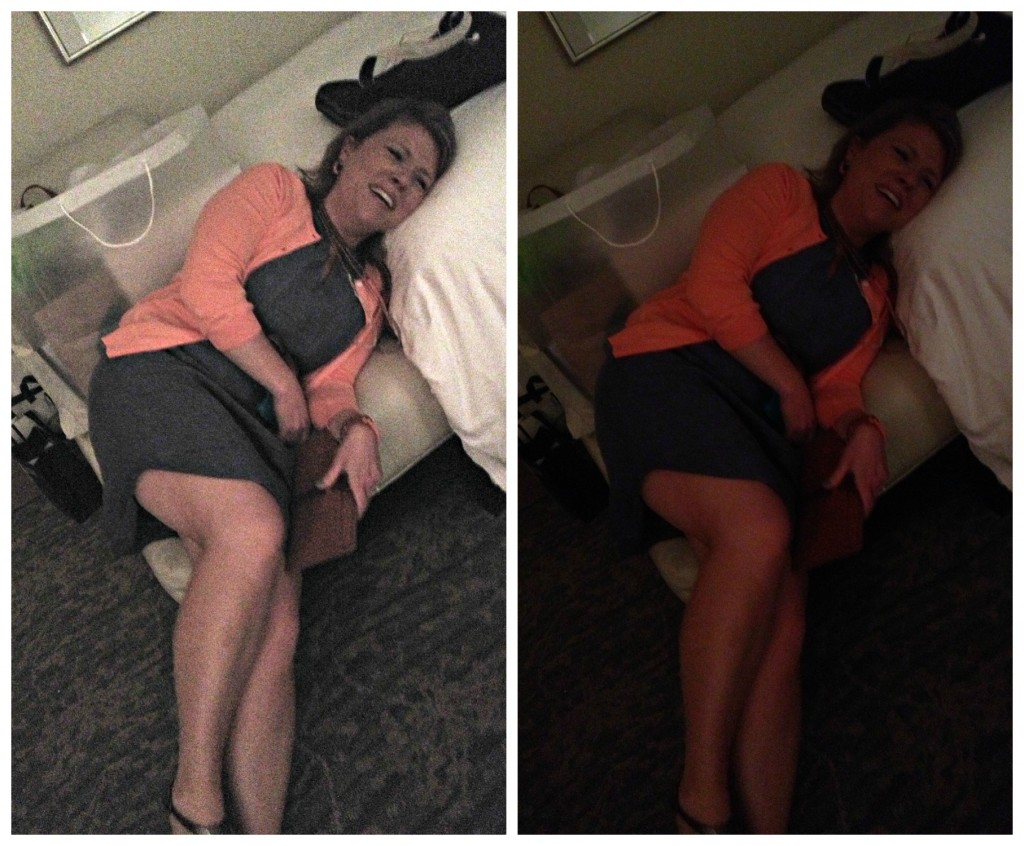 I have no idea why Emily thought what I said was so funny, but seeing her weeping with laughter on the fainting couch cracked me up as well, and soon we were both crying so hard from laughing that our formerly immaculate eye makeup was down to our shoulders. All because of those three little words:
Is that…cookies?
It must've been that martini. Perhaps this re-enactment will help you be the judge.
Thank God that fainting couch was there! I hate to think of the damage that would have been done had Emily had to plunge all the way to the carpeted floor in her hysteria.
I have no idea what happened to the cookies. I can't remember if Em ate one or not (I wasn't about to due to the stupid gluten). Also, I didn't find out til the next day that the starfish and sand dollar were white chocolate. DANGIT! I totally would've eaten those.
So you tell me, dear readers, what caused Emily to need the fainting couch? Any theories? I'd love to hear them!
_______________
Lead image Photo Credit: creepyed via Compfight cc