As you may remember, after much consideration, last spring we adopted a dog.
Jenny implored me not to do it (if you haven't read this post, read it now. It's a Mommin' It Up classic. Go ahead, I'll wait.) But we did it anyway.
After a year of dog ownership, I must admit…
I do not get it.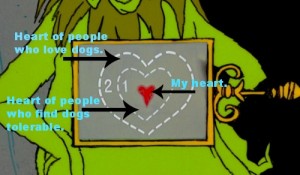 Why people would choose to have a dog in their house is beyond me. The hair, the farts, the poop (the fact that the freaking dog caused me to use those awful words!!!) – it's disgusting. Not to mention the fact that we are now THAT HOUSE – you know, the one you go to and innocently ring the doorbell only to be accosted by a barking dog? Yeah, that's us. Yay.
But what about the affection, the love, the joy the dog has brought to my life?
I've found none of that. NONE. The dog and I co-exist, and that's the extent of our relationship. I cognitively understand that many, many people experience these things, I just don't. And it's not that he's a bad dog – he doesn't mind being in his crate for hours on end, he's never (knock on wood) had an accident in our house, and he doesn't chew on anything but his tennis balls.
The problem is that he's a dog.
And I'm not a fan of dogs.
I guess what I'm saying is, Jenny was right all along.