Yesterday afternoon I had the privilege of volunteering at the present-wrapping party for Fostering Christmas Care. FCC is the effort I told you about in this post -the effort my friend Jeni decided she was going to make happen- to provide wonderful Christmas presents to every child in foster care in Greene County, Ohio, where Jeni lives and is a foster mom herself.
Thanks to YOU and many other generous folks like you, Fostering Christmas Care met it's $5,000 fundraising goal in just over a WEEK!  So, yesterday a group of volunteers got to go and wrap the wonderful presents bought with the money and love of so many.  We had the opportunity to make a card to go inside the presents.  We had the opportunity to teach our kids about giving, and about how God wants us to take care of others who can't take care of themselves. We had the privilege to pray for the kids who will be receiving these gifts.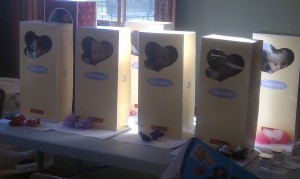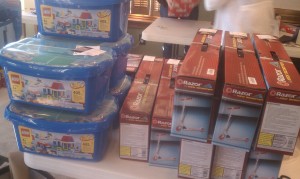 And we had FUN.  I can't tell you what a joyful feeling was in the air.  The atmosphere was busy, fun, happy, excited, and refreshing.  It was a wonderful time.  In just two hours, dozens of people wrapped all the gifts, made cards, snacked, and laughed together.  It was just a real blessing to be there and good for my soul.  And I got to share it with some special people, my friend E and her family, my friend Shannon and her family, my sister-in-law and niece, and of course my kids and husband.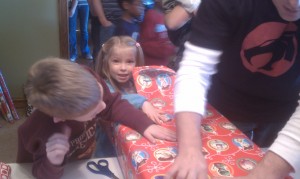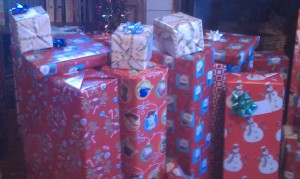 I know it's not even Thanksgiving yet, but I got enough holiday warm fuzzies yesterday to last me all season!  I am definitely in the giving spirit.  Thanks again SO MUCH to all of you who gave to make this possible!