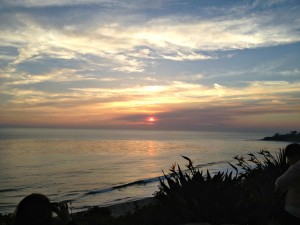 Yesterday Emily got to show off her lovely Lands' End looks from our time at last week's Mom 2.0 Summit 2013, and today it's my turn! Yay! I promise we'll eventually post about what we actually did there and all the stuff we learned and cool people we met. Eventually. But for now…more fabulous clothes and accessories! I know Em is going to love this post because it will include So! Many! Pictures! OF ME!! Here goes: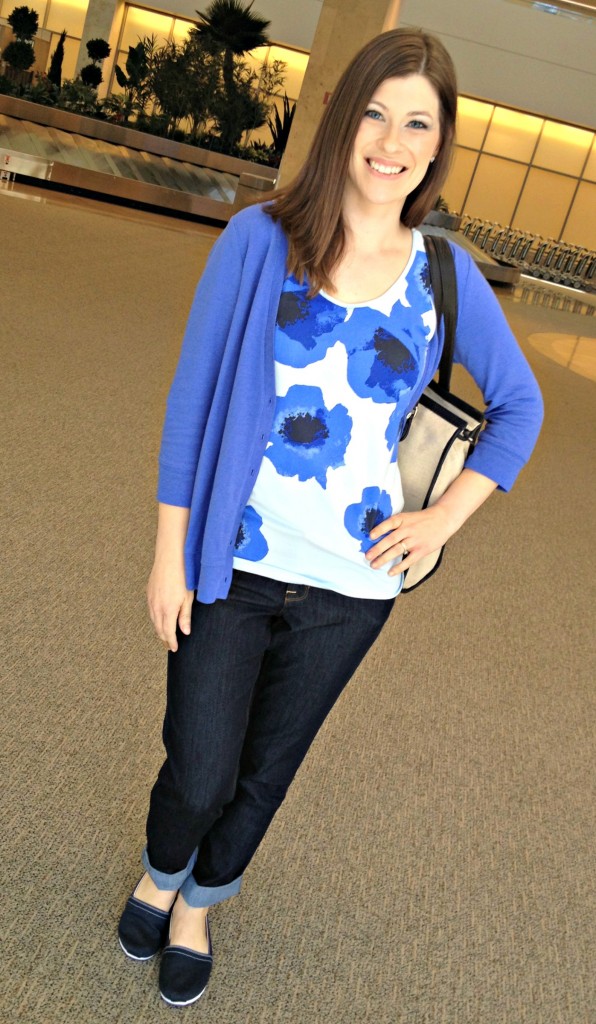 Thursday I hit the airport bright & early (our flight left at 6:25 a.m., OUCH!) in this cute and comfortable ensemble. The sleeveless pattern tee was so soft, in my absolute favorite fabric, cotton modal. I paired it with a matching cardigan cause I'm always cold on airplanes. The slim leg jeans I wore with this outfit are awesome; so comfortable and they dress up or down really easily. I cuffed mine for a more casual look. On my feet I wore my favorite casual shoe, the Gatas canvas slip-on. I still have two pair from last year and they are in great shape and so comfy! The linen and leather tote bag I carried was perfect for travel. It fit my iPad, my precious makeup bags, my wallet, and all my essentials with room to spare!
Thursday night the conference opened with an Endless Summer Beach Party! Woohoo! I chose a Lands' End Canvas sundress that was perfect for the occasion.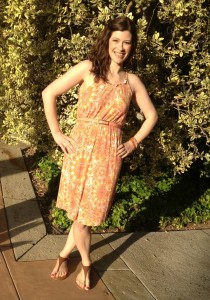 I absolutely loved the dress, it was so comfortable and flowing. Not to mention cute!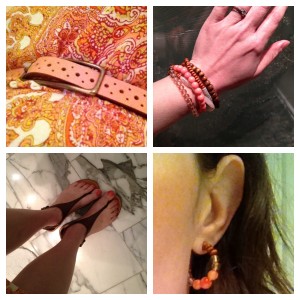 I accessorized with this belt, also from the Canvas line. I loved the way it looked with the dress! I wore the beach earrings and multi-strand beach bracelet which also matched perfectly, and these simple but fashionable leather Tia t-strap sandals on my feet.
On to Friday! During the day, I wore this pink stretch pique empire waist dress. I L-O-V-E it. It might be my favorite, I felt so good in it. And, it has pockets! So convenient when one is being handed business cards all day!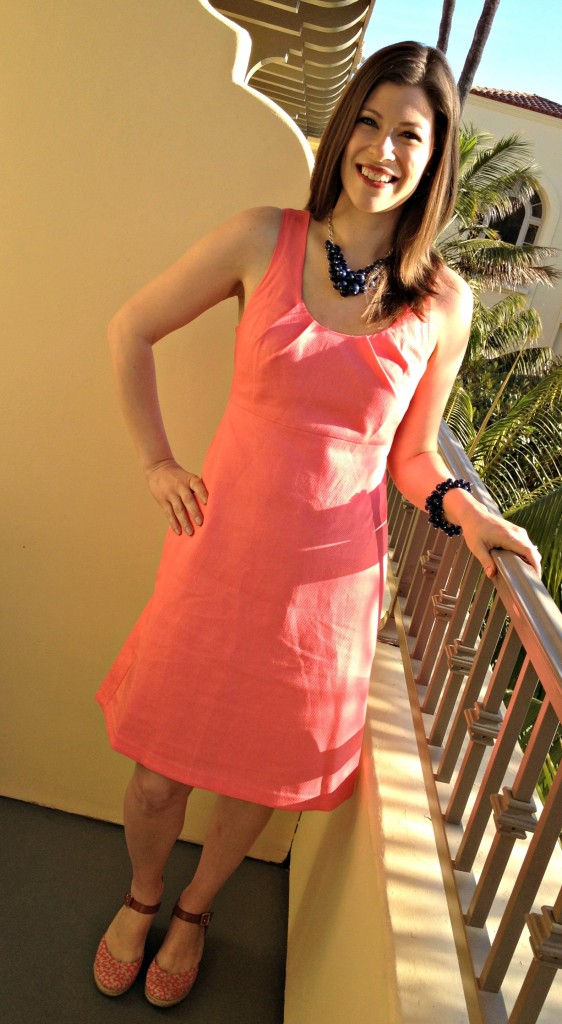 The Cara espadrille shoes I wore with it just made my day every time I looked down!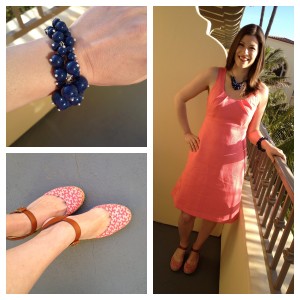 I took a risk with the dark blue beaded cluster bracelet and necklace, but I absolutely loved the way they looked! I'm so glad I chose them.
Friday night we had a big party to attend – a CVS ExtraCare party! Can you believe it? Y'all know how I LOVE CVS! But I digress…I went more casual and fun for this party.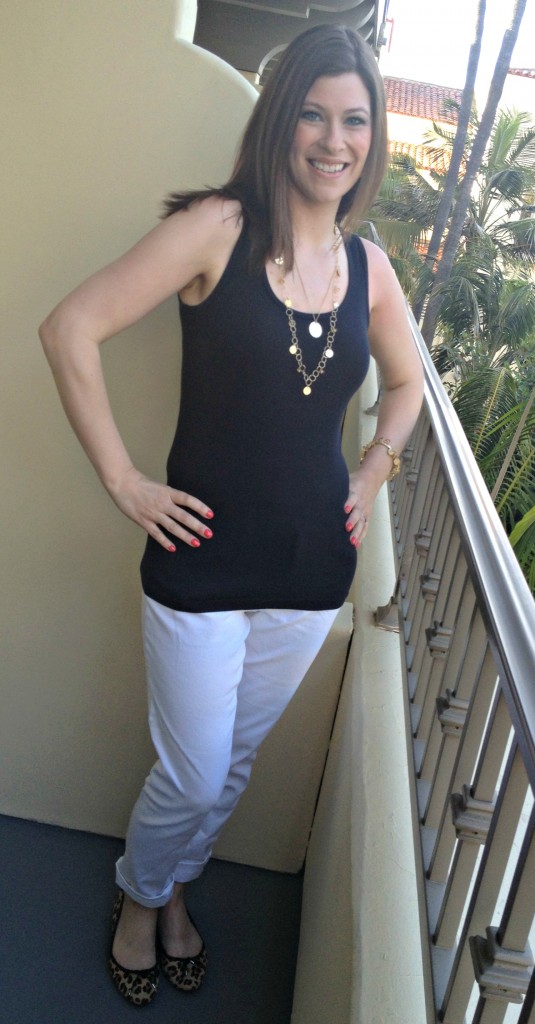 I adore the slim leg white jeans. So comfortable and crisp – I'm going to wear them all summer long! I went with a black heritage rib tank from the Lands' End Canvas line, and these adoooorable leopard-print Bianca ballet flats, which made the whole outfit! My gold coin necklace, bracelet, and earrings really made this outfit stand out, too.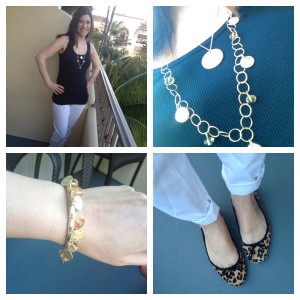 Saturday we were up ready for another great day at the Summit. I was feeling great in this black & white floral shirred linen sheath dress.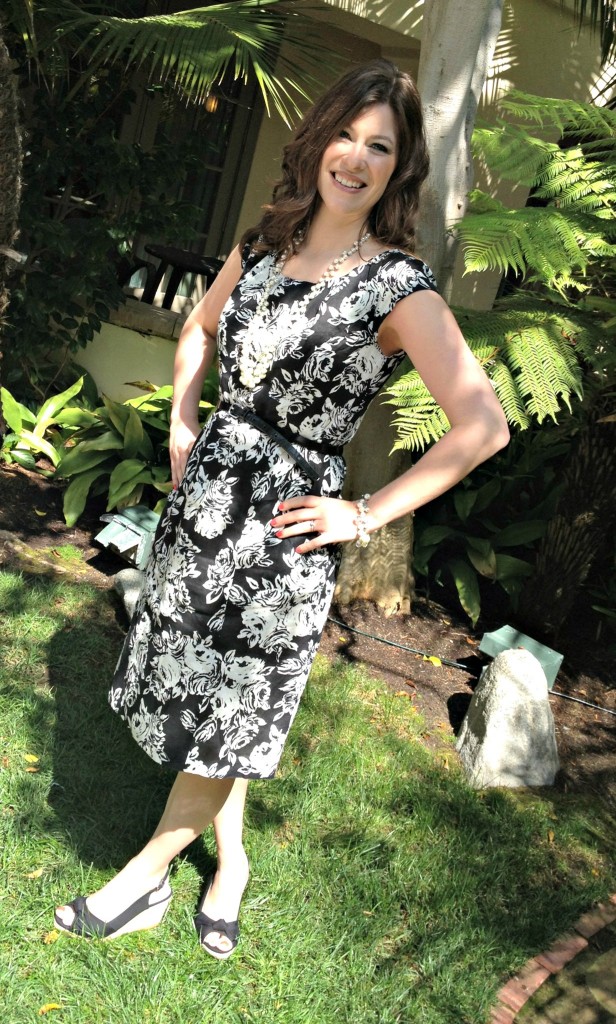 This dress was SO comfortable, and it also had pockets! I love the shirring at the neckline (which is hard to see in the photo), which is so elegant and flattering.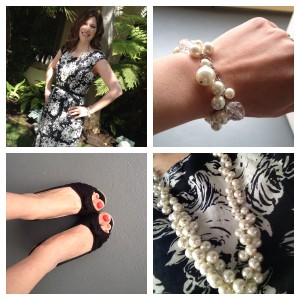 The black Parker knotted espadrilles I wore on my feet were the most comfortable heel I have EVER worn. I want them in every color! I didn't want to take them off. And the pearl cluster necklace and bracelet? My favorite accessories of all. I felt like such a lady in those. They are just so beautiful and I know I'll wear them again and again.
The conference culminated in a fabulous Kentucky Derby Garden Party thanks to Whirlpool. For which I knew I wanted something bright and floral! This floral pique sleeveless dress did the trick.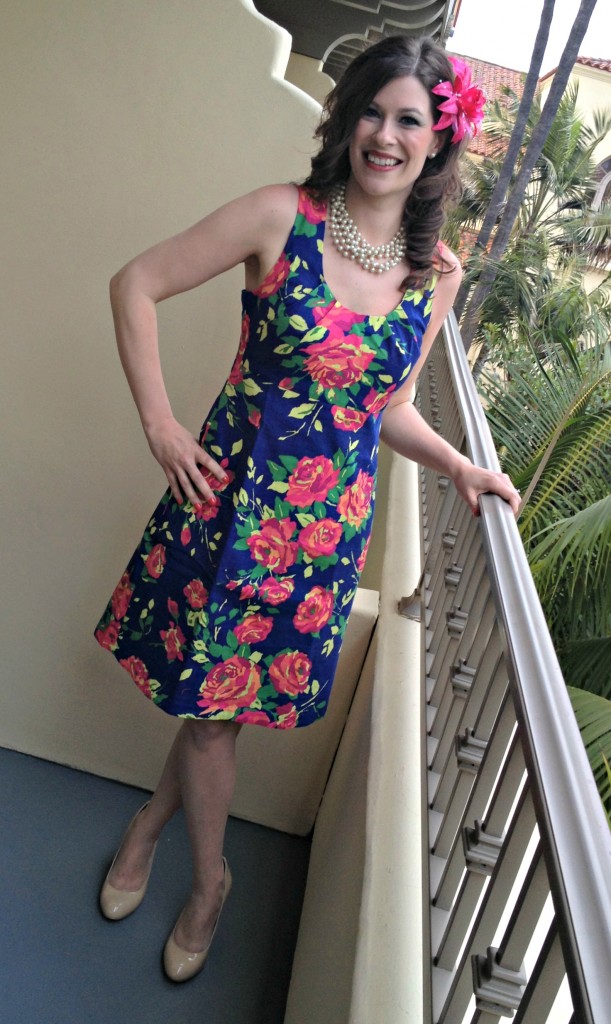 This dress, like the others, was so darn comfortable I could've worn it for two days straight. And again, with the pockets! It was so nice to just put my room key and business cards in my pocket when heading to the party. I also am in deep, fashionable love with the Ashby nude patent-leather pumps Emily and I both wore that night. I wish I'd gotten a better picture of them – they are so, so chic. I wore a triple set of Lands' End pearls from last year's Mom 2.0 around my neck, and since it was a GARDEN party, a big, beautiful flower in my hair from the client I work with through my job, Girls Crochet Headbands.
Sunday, we were anxious to get home to our families but sad to leave the idyllic beach setting and the lack of having to clean up after ourselves at the Ritz-Carlton! But at least we got to travel home in style!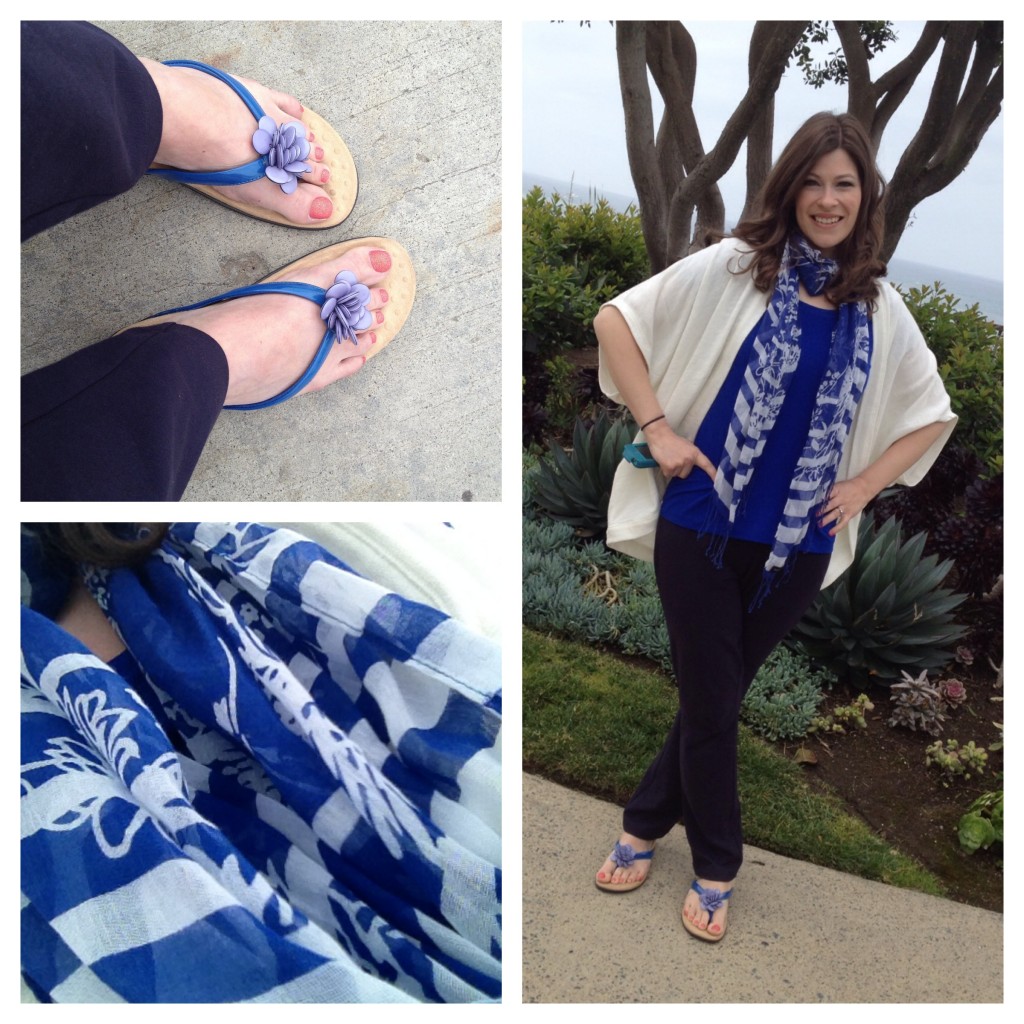 A loooong day of travel called for some pieces from my beloved Lands' End Starfish line. I tried their new Starfish slim leg pant and I ADORE them. They are so comfy and the slim leg is super-flattering! I paired them with my (have I mentioned??) FAVORITE cotton modal short-sleeve scoop tee and matching scarf. To keep warm on the plane I chose the Starfish elbow-sleeve terry cardigan which is *adorbs* as well as super-comfy. And speaking of comfy, these cute flower flip-flops were so cushy and did my feet a lot of good! Sadly, it appears they are no longer available (clearly I must've sold them out with my trendiness, right?)
Finally, I must mention my super cute and functional striped tote I carried all throughout the conference.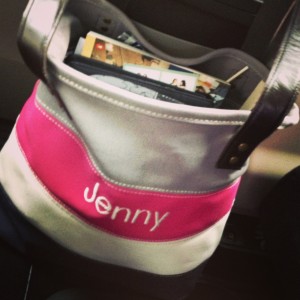 Don't you love it? It was perfect for holding  my iPad, conference schedule, snacks, water bottles, and all the goodies from sponsor booths we picked up all day long. I know I will get great use out of it for years.
I am so privileged to have all these wonderful outfits to remind me of the great weekend spent at Mom 2.0 2013! Emily and I were beyond proud to represent Lands' End – it's really what I live in ALL year long. Hope you find something you liked amongst our outfits! Which was your favorite?