This is my friend Elizabeth, or as most of us call her "E" – and her husband, Steve: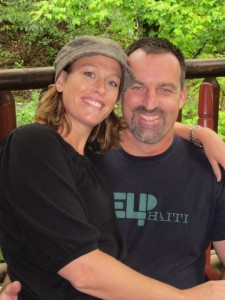 If you think they're adorable, just wait til you see their three great kids, Olivia, Turner, and Quinn. (I had to use this picture because it is SO THEM!)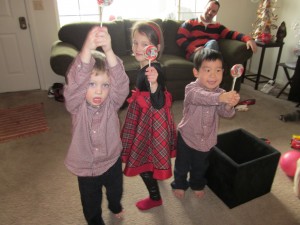 Steve and E are the leaders of our house church, which is the small group we attend weekly under the umbrella of the "big church" we attend. (Or, as Andrea likes to call it, our "cult".) We have some pretty awesome people in this house church, including fellow bloggers Celia and Cortney. E has a blog as well, which you can check out here (and please do!)
I'm writing about E today because Sunday at our house church gathering she shared with us she was having some weird physical problems, specifically bad bloating.  Now E is very thin and I could SEE how big her stomach was through her clothes so I was concerned.  Because I know from this post Emily wrote that bloating is one of the few symptoms of the very hard-to-diagnose ovarian cancer.  And you know, from this post, why ovarian cancer awareness is important to our family.
E was able to get in to get a CT scan the next day, and then that night they called her to come in Tuesday for the results.  You can read the story here on her blog.  But the condensed version is, she has suspicious masses on both ovaries.  And fast forward again, at 8 am Friday (perhaps at the exact time you are reading this), E is having surgery to have those babies and all their affiliated girl reproductive parts removed.  And tonight, as I am writing this, there are many people gathered at E's house praying over her, praying that this is NOT cancer.  That when they open her up tomorrow, that it will NOT be cancer.  And that is what I am asking you to pray, whether you are reading this Thursday night or Friday morning.  Please pray with us that Elizabeth does NOT have cancer, and that the surgery will completely take care of her health issues.
Here is a quote from Elizabeth's blog, the reason why I am writing this, putting her life out there for you, my readers:
"Please pray that what he finds is NOT cancer. If you know others who pray, would you mind having them read my blog? (Is this all a shameful plug for more readers?) No matter what, I have a feeling God's not done showing off yet."
Please read this post of E's to see how God has already "shown off" for her in the midst of all this.
We believe, that we have a God who a) can totally heal E b) listens to our prayers c) already knows what's going to happen d) has a plan and e) has totally got this under control.  It's hard not knowing what the plan is, what the future holds – but we believe that no matter what He will use this for good, and for His glory.
But we can still go to Him and ask for what we want, and what we want is for E to not have cancer.  So please, join us in asking that this is not cancer, and that E and her family will have beautiful peace, and that we in their community will help meet all their needs at this time.
Elizabeth is an amazing person, friend, and mom and I love her, so many people love her – please pray with us that God will give us the desire of our hearts!