Monday night, a couple dozen of us Dayton area bloggers got a super-amaaaazing treat.  We were thrown a little chocolate-and-cheese fondue party by the generous folks at the Melting Pot's Dayton location.  If you have never been, you have GOT TO GO.  My first time there was last September for my 32nd birthday.  It is THE special occasion destination for me from now on!  The many different kinds of cheeses served with fresh veggies, chips, and bread were indescribably good.  And the chocolate??  They have about a million different ways to melt chocolate and they are all heavenly!  We had fruit, cheesecake, brownie pieces, marshmallows and even flippin' rice krispie treats doused in hot melty chocolate!  They've got dark chocolate, milk chocolate, chocolate with caramel, nuts, and even a couple of things they set on FIRE!  It was – sinful and perfect.
And a lot of my faaaavorite people were there!  Like Amy, and Cortney, Andrea, Katie, Becky, Tricia and Susan.  And new friends like Celia and Amy and Kate.
But guess who was not there?
THIS GIRL:
Emily could not join us you see, because she was in class.  As in, school.  Learning.  Because someone thinks getting her master's degree is more important than pigging out on melted cheese and chocolate with your blogging buddies.
Lame, right!??  I knoooooooooow!   So Emily missed out on the wonders of the Melting Pot.  She missed one of our fab servers singing happy birthday to Kandi in French:
She missed hugging some really awesome people: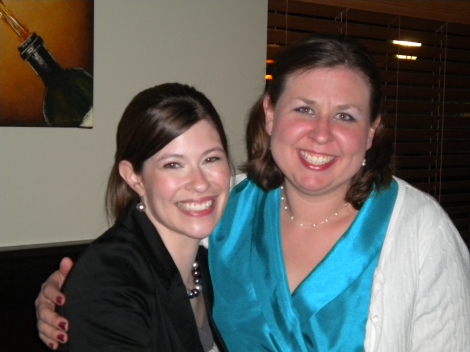 (Becky was my super-hot date.  She let me drive her mini-van!!!!!!)
She missed Cortney and I trying to out-goof each other in this photo session (because Cortney, in all our pictures, always looks mildly happy to be with me, and I always look really happy to be with her. So we were trying to mimic each others expressions and reverse roles in the last two shots and well…it kind if all got out of hand!)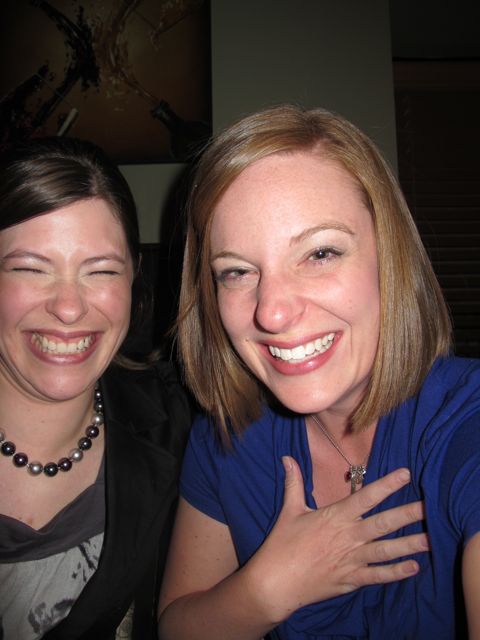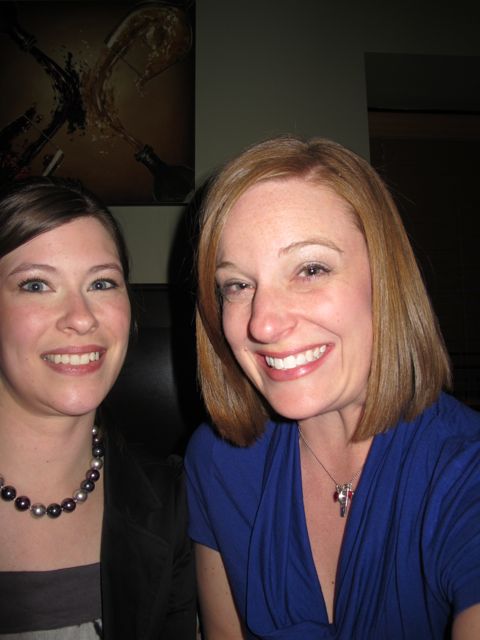 Another thing Miss Smarty-Pants missed is the TOUR we got of the Melting Pot!  It was way cool!  One of the things I love most about this place is the atmosphere.  It makes you want to stay for-ev-ah.  And they DO let you stay and take your time with your fondue!  It's a really awesome place to go on a date.  Andrea and I tried out one of the cozy little just-for-two booths to demonstrate just how close you can get!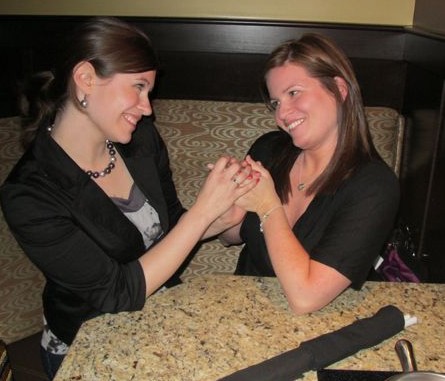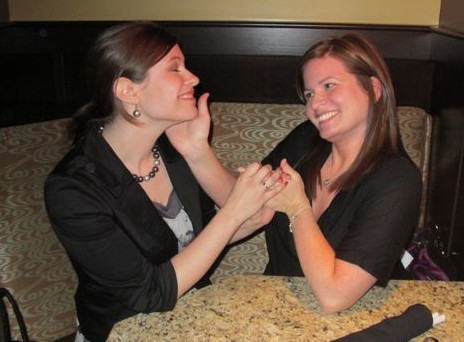 Sorry Mr. MommySnacks, I had to borrow your wife there.   (Oh, Andrea.  We'll always have the Melting Pot!)
And you know what else Emily missed??
FLIPPIN' MELTED CHEESE AND CHOCOLATE!!! OH MAH GOSH!!!!  WHO DOES THAT?
"Academics", apparently.
How much cheese and chocolate is your master's degree gonna get ya, huh Emily?? HUH??
So anyway.  To sum up:
The Melting Pot is amazing and you should all go there.
Katie rocks for getting us all invited.
Cortney should smile more when she gets her picture taken with me.
Emily should drop out of grad school even though she only has one week of class left.
And higher education can never come to anything good.
But this?  WAS GOOD!!