Last week, Kate turned 6. I wanted to get a craft table for her without breaking the bank, so I turned to all of you lovely people for advice.
And, like always, you came through!
Melissa left this comment, which I thought was brilliant:
Great idea for a gift for your daughter! Our kids LOVE arts and crafts as well, so we just did the same thing – in the most frugal way possible! Our table seats 6 kids, but a smaller table can serve the same purpose…
1. Scour Craigslist for a great table in the color that you want. Keep in mind that you can paint or stain it.
2. The table we found happened to be a little tall for our kids (all under 6), so my husband trimmed off a few inches to make it the perfect height.
3. We found great kids chairs on Craigslist as well – again, you can stain/paint to match. If you're only getting a table for one, you might want to splurge on a cute chair at Ikea etc…
4. My husband is cutting 3 holes in the middle of the table, and I bought cute metal buckets in the Target $1.00 section to put in the holes to hold colored pencils, crayons and pencils.
5. You can get reasonably priced organizers (metal or otherwise) from Ikea or Lowe's and attach them to the bottom of the table to hold paper, stickers, hole punches etc…These organizers are often found in the closet/kitchen organizing sections.
6. Buy a dowel rod and attach it to the bottom-side of the table for your role of paper
*voila*
There you have a perfect arts and craft area for your little one for a fraction of the price!
So, I had all these visions of finding the perfect old table and painting it multiple colors… I still can't figure out what kind of tool would be required to cut a hole in a table top, so that part was going to have to be modified (although seriously, how cute would it be if you were handy enough to do that??). Re-purposing something old rather than buying something new – perfect! I looked on Craigslist and had plans to go to the local flea market… but it just didn't happen.
Instead, I found myself by Big Butter Jesus on I-75 the next day, and thought of the comments Elizabeth and Jen left suggesting Ikea… so I quickly exited, dropped Kate off at the kids' area, and Sam and I made a mad dash through the store. I only had an hour before I had to pick Kate up… and getting through Ikea in an hour is not an easy feat!
It turns out that they have an area where you can mix and match table legs and table tops in pretty much every conceivable material and style imaginable. The one I picked out was – are you ready for this? – $19.99. The legs were $4 each and the table top was $3.99. CRAZY. So, after getting that taken care of, we dashed through the the rest of the store, picking up organizers from the kitchen area and craft supplies from the kids area. By the time I got to the warehouse part where the boxes of furniture actually lives, I was pushing Sam in a cart with one hand, and a flat-bed cart with the table with the other. I was breaking a sweat! But I was turning over my credit card to the cashier at exactly the same time the buzzer sounded, signaling it was time to go back and get Kate, so it all worked out perfectly.
The table – with some help from my super-handy friend Jana – is awesome.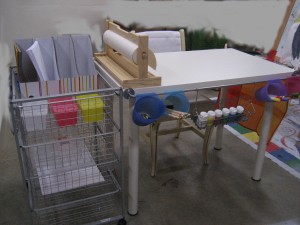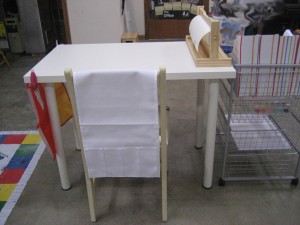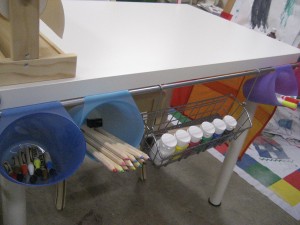 Kate was thrilled!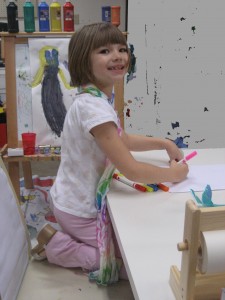 We had a great day with her – Andy and I took the day off so we could all spend it together. We went to school with her, and since her birthday is also Earth Day, we brought in dirt pudding as a snack.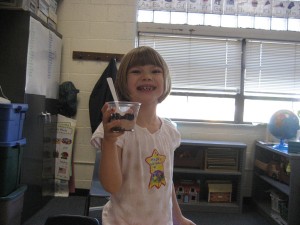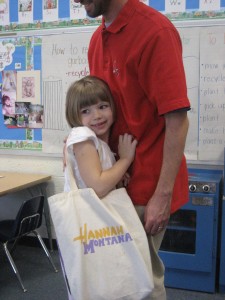 We went out to lunch and to the park.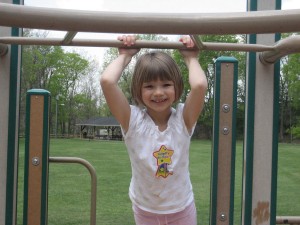 And then we sent Daddy off to his tennis match and had a little girl time at the local nail salon.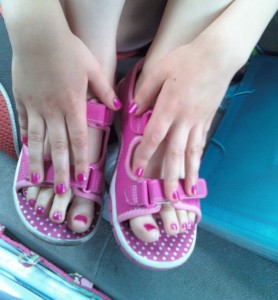 I love that girl!