If you've ever had the misfortune to drive on I-75 in the Monroe, Ohio area, you've certainly seen Jeebus, a 62-foot statue of what looks like Jesus carved out of butter and sinking in quicksand: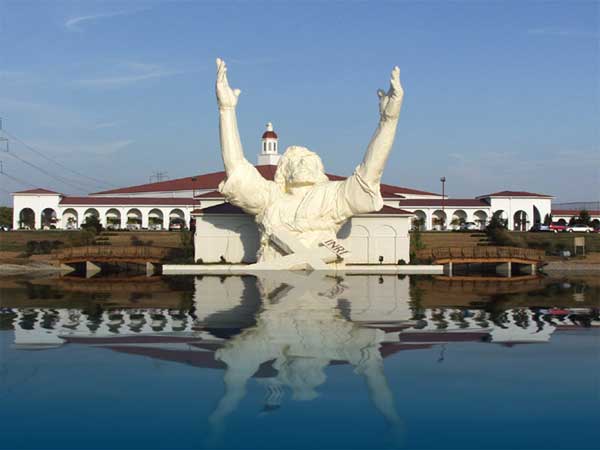 As a side note, at the very exit where Jeebus resides, you'll find not one but two flea markets, a maximum security prison and another medium-security one, a strip club, a giant anatomically-correct horse, and a Hustler store. If you're ever in the mood to do some people watching, have breakfast at the Waffle House right there. Trust me. Amy and I did it on Sunday.
But I digress.
Since we're lucky enough to have this monstrosity fairly close to us, our kids have grown up knowing Big Butter Jesus, but it never fails to illicit an interesting response from Joshua and Kate, who termed in "The Big White Giant" when she was no more than two.
Saturday afternoon the kids and I were returning from seeing "Sesame Street Live" in Kentucky (no, we didn't try to walk there), and for the better part of the trip, Kate and Sam were alternately chanting "Mommy is a goofball!" and "Mommy is a chicken!" They were cracking themselves up. I was pretending to be highly offended, which of course made them giggle even harder.
That is, until I pointed out that we were passing Touchdown Jesus.
Kate immediately smashed her face up against the window, and in her sweetest, most innocent voice said "Hello, Jesus. I reallllly love my mommy. She is realllly nice and I realllly love her!"
I burst out laughing and said "Wait, I thought I was a goofball and a chicken," and she replied, "I know, but I didn't want Jesus to hear me say that!"