That has been the question in our house for, oh, probably a year and a half.
Andy and Kate (and now Sam, although I question his decision-making ability) say yes… I say no.
Except now I'm wavering.
I've never had a pet. I don't get the whole thing. I don't know why people are obsessed with their dogs and I don't know why anyone would get a cat, ever. I'm sure there's something to it or 84% of the population wouldn't have one, but I just don't get it.
But Kate really loves dogs. She is so cute when she's around other people's dogs, and she really wants one of her own.
So then I start looking around Petfinder.com and see faces like this one…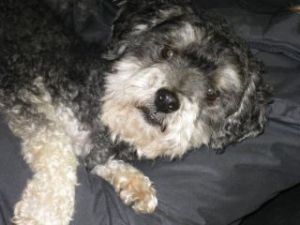 And I think it really wouldn't be so bad. But then I remember all the pain in the butt parts about having a dog and I don't want to go through with it anymore.
So tell me, people – dog or no dog?