My Pin for the Wednesday today is not crafty or food-related – but life-changing none the less. How to fold t-shirts so they're not a giant mess. A skill everyone needs!
Here's the original pin, and here's how it worked for me.
The before: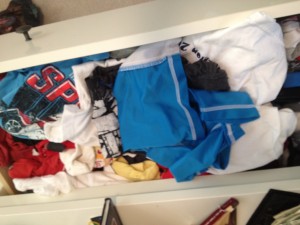 And the after: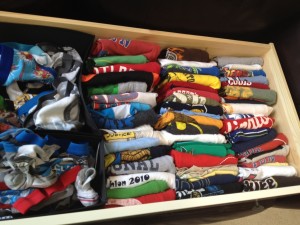 Not only did this method make Sam's drawers (and subsequently, Kate's) look much better, they also hold more shirts this way and prevent the ever-popular riffling through the drawers to find the exact t-shirt they MUST have, wrecking everything in their wake. Which makes my head slightly less likely to explode. I highly recommend it.
So, what have you been up to? We'd love for you to link up.
Here are just a few rules:
1) In your post, please link to your original source – the pin you got the idea from.
2) Make sure and link back to our original Pin For the Wednesdays Post here at Mommin' It Up! (please!)
3) In the Mr. Linky below, leave a direct link to your Pin FTWednesdays post, not to your main website.
4) Totally optional – grab our cute #PinFTW button! The code box is over there in our sidebar.