Today's #PinFTW was a huge win! In fact, I wish I had some right now.
I made caramelized onions and jalepenos – here's my original pin. Caramelpotatoes.com has all the instructions!
I started by cutting up an onion and a jalepeno. Imagine that!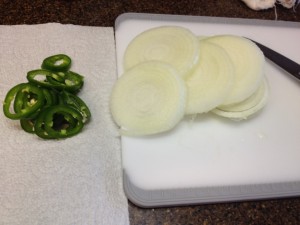 I sauteed them in a little butter and then added the secret ingredient – brown sugar!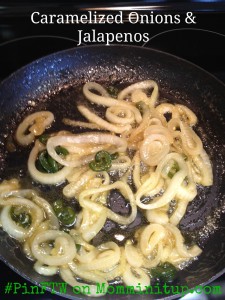 Yum, yum, yum – they were so good! I could have eaten them just like that, but as the pin instructed me to do, I used the onions and peppers as a topping on a burger that was grilled and topped with pepperjack cheese. It was amazing. I highly recommend trying this!
So, what have you been up to?
There are just a few rules:
1) In your post, please link to your original source – the pin you got the idea from.
2) Make sure and link back to our original Pin For the Wednesdays Post here at Mommin' It Up! (please!)
3) In the Mr. Linky below, leave a direct link to your Pin FTWednesdays post, not to your main website.
4) Totally optional – grab our cute #PinFTW button! The code box is over there in our sidebar.
No blog? Leave a comment!
Thanks for playing!