Welcome back to Pin for the Wednesdays!  I can't wait to read all about your winning pins!  I hope you'll head on down to the Mr. Linky below and put in a link to a post you've done about something you pinned on Pinterest that you ACTUALLY, you know, TRIED! And that you loved!  Mine this week was inspired both by Pinterest AND Jen of Big Binder!  A couple of weeks ago, Jen linked up with a Pinterest-inspired art project she did with her kids that taught them about an artist. So, I decide to see what I could find for Sophie and I to do along those lines. I wanted our project to involve cutting, since even though she is all done with Occupational Therapy, I like to keep up on her hand strength.
The original pin that I found was this one below, but as I kept searching I found several similar ones based on the art of Wassily Kandinsky – his famous "Kandinsky Circles".
I didn't show Sophie a picture of Kandinsky circles OR have the art lesson until we were all the way finished with the project, because I didn't want her to try to make hers look like the pictures or like anyone else's. I just explained to her what to do, and here's how her circles turned out. I think she did a great job!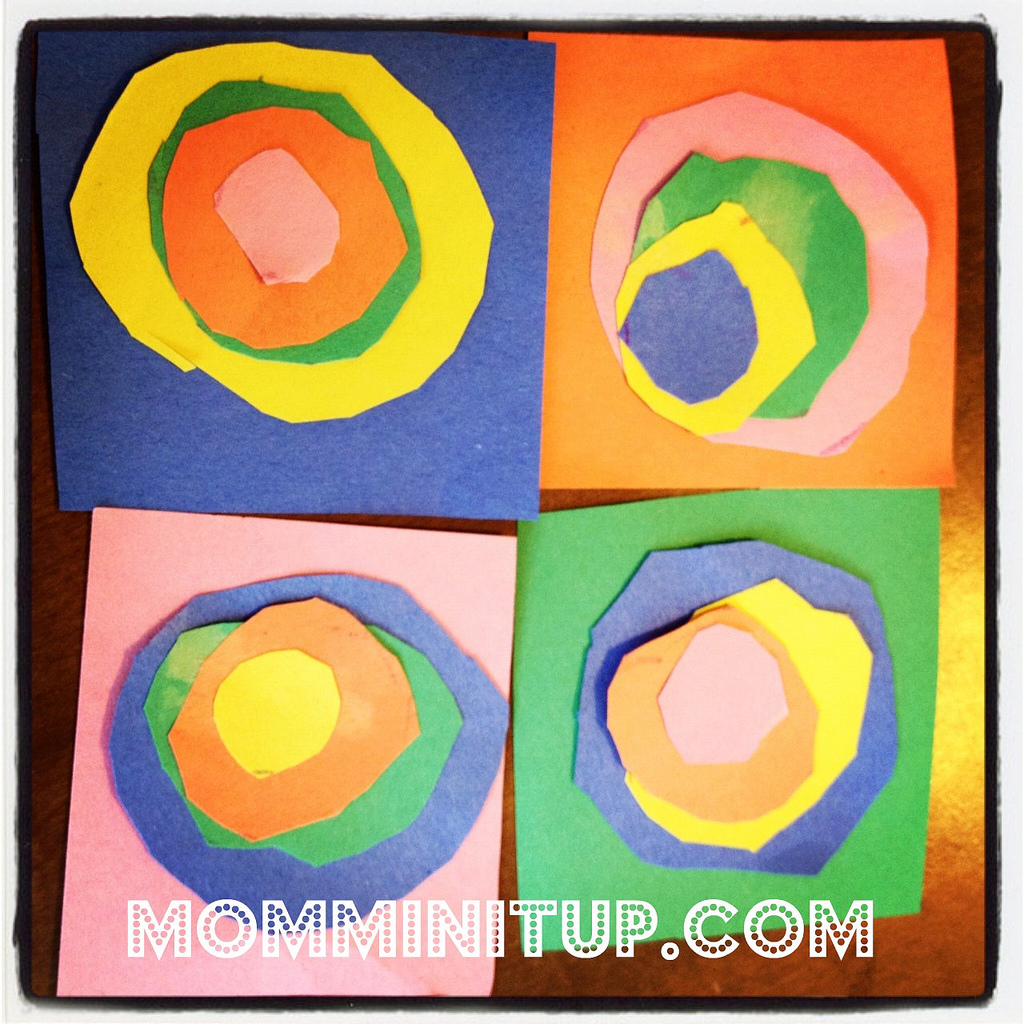 I made some different-sized circle tracers out of cardboard for Soph and had her trace, cut, and glue them.  We did one set a day for four days, and at the end, we had our little art lesson on Wassily Kandinsky.  We looked at his art online and I told her all I had read about him in all the many fine art books I have in my home on Wikipedia.  It was fun and Sophie was really proud of her circles!  This pin was a win!
I showed you mine, now YOU show me YOURS!! Pretty please link up below with a blog post about a pin you tried and loved. (No blog? No problem, just leave a comment! OR you can leave a comment telling me how I'm such a fabulous mom for doing this project with my daughter. I know, RIGHT!?) There are just a couple of rules:
There are just a couple of rules:
1) In your post, please link to your original source  – the pin you got the idea from.
2) Make sure and link back to our original Pin For the Wednesdays Post here at Mommin' It Up!
3) In the Mr. Linky below, leave a direct link to your Pin FTWednesdays post, not to your main website.
4) Totally optional – grab our cute #PinFTW button!  The code box is over there in our sidebar ————————–>
Now let's see those winning pins! It's #PinFTW!