I am super, super, super excited about this review. A) because I am a huge dork and get geeked out about things I love and b) because I am all about nursing, as you probably know. And in a few months, the girls are gonna be back in action nursing a new baby for approximately one to two years!  Due to having gained most of my pregnancy weight in my BEWBS, I already needed a new bra or two to wear.  Tricia has been raving about Bravado Designs for months, so I contacted them (yes, I am a total ho.  Feel free to judge me.) to see if I could review one of their nursing bras that was also good for pregnancy.  And ta-da!  They said YES!  And I have been, for the past 36 hours, in total, wonderful comfort thanks to this: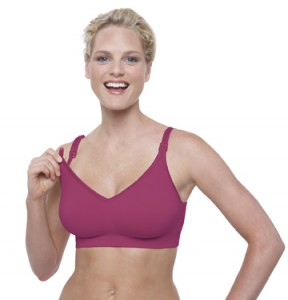 The Bravado Body Silk Seamless nursing bra.  It is soo comfy!  I haven't worn a bra without wires in for-ev-ah, so I was a little nervous about that but WOW this gives plenty of support without underwire and it really is like a second skin.  I could not love it anymore.  I went through lots of nursing bras in the combined 36 months that I nursed Joshua and Sophie, and I never had one anywhere near this nice!  It's got lots of rows of hooks on the back to expand with your expanding pregnancy/nursing bustline, and it has removable molded cups that put juuuuust the right of material between my skin and my shirt.  I like a wee bit of lining and this is perfect – plus, you can totally remove them if you don't want them, or when you need extra room for nursing pads. Oh! And even though I am obviously not nursing yet – I went ahead and gave the clasps a try to see how easy they were to open and close with one hand. SO easy!  And they lie flat under your clothes.  This whole bra stays nice and invisible under your clothes.  I wore a pretty fitted tank top the other day and you couldn't see anything underneath – it was perfect!
This bra comes in lots of pretty colors and I am DEFINITELY getting another one.  I love it so much that I can't wait to try out all the other Bravado styles!
Bravado is also a company that is all about helping other women, which I love!  Along those lines, in support of Breastfeeding Awareness Month, Bravado is giving you the opportunity to be a HERO to a favorite organization of yours that helps women.  Go here to Bravado's site and nominate an organization that is exlempary in helping women.  If your organization is chosen, Bravado will donate 1,800 nursing bras in YOUR NAME!! You can nominate as many times as you like, and you will be entered to win a Bravado nursing wardrobe of your own.  So head over to the site and be a hero – there are only a few days left to enter!
Thanks Bravado for giving me this awesome bra to review. I know I'll enjoy it for many, many months to come!
**Updated to add** Bravado Designs now has a 20% off coupon code you can use!  It is good through Labor Day, Monday September 6th.  Just enter LDAY-195 at checkout for 20% off your online purchase.  Rock on!!