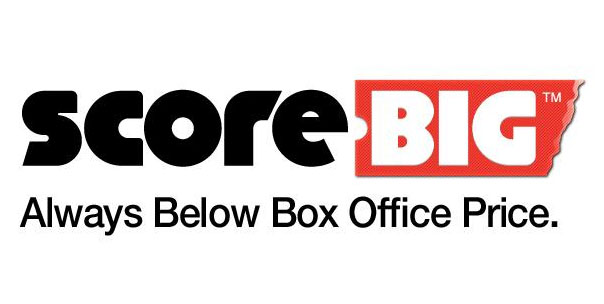 Well you learn something new every day. The other day I learned something new, and here's your new knowledge-bomb for today: there's a service where you can bid on event tickets to get great deals (think Priceline for concerts and sporting events!!!) and it's called ScoreBig. I had never heard of it before, but when they emailed me asking if I'd like to review their service in exchange for a credit, I of course said YES, because I love a good deal and I wanted to check it out. You guys know I'm cheap as crap frugal, and this often prevents me from attending concerts and games – I am so excited to know there's a way to get discounted seats!
I'll tell you about my experience using ScoreBig to get Cincinnati Reds tickets, but first, I want to tell you HOW it works. It's pretty simple actually. You log on to ScoreBig, select the event you want to attend, select your seating area, and name the price you want to pay. They even have a helpful little meter that tells you how likely it is that your offer will be accepted, and they also identify the list price for you so you have an idea of where you should be bidding. Once you make your offer, you find out INSTANTLY if it was accepted. If it is, YAY! If not and you want to try again, you have to wait 24 hours. Once you get your tickets, ScoreBig will send you an email letting you know how they will be delivered. The BEST part, I think, is that you pay NO FEES EVER. What you bid is what you will pay, PERIOD. Extra fees are often what keeps me from pulling the trigger on something like this, so I LOVE that part. A LOT.

I decided to use the credit ScoreBig gave me to get some Cincinnati Reds tickets for my baseball-crazy brother and nephews, because my brother's family has helped me out a lot and so I like to hit them back whenever I can. My brother picked a Reds vs. Red Sox game, and I hopped over to ScoreBig to see what kind of deal I could get on 4 seats. It was a really popular game, so the only seats available were bleacher seats but he was ok with that. The list price was $32.50, so I bid $22.00 per ticket – and my offer got turned down. The meter told me it was iffy but I wanted to try anyway – what can I say? I'm a gambler! Plus, I really wanted to get the whole ScoreBig experience, and didn't mind having to wait 24 hours to try again.
After my offer was rejected, ScoreBig did make me a very decent counter offer, but I decided to wait the 24 hours to see how cheap I could be. 🙂 I am sure this surprises NONE of you!
The next day, ScoreBig conveniently sent me an email when it was time for me to try again, so I went back to their site and bid again – this time $23 a seat – and my offer was accepted instantly! Woohoo!! My brother & fam are going to see the Reds vs. Red Sox! Immediately after my purchase was confirmed, I got an email from ScoreBig letting me know they'd tell me how I would receive my tickets (shipped, e-tickets, or will-call) ASAP. And just a few minutes later, I got another email that said I would get e-tickets. And a couple hours after that, the e-tickets came and I was able to print them immediately. The whole thing happened so fast, and I didn't have to go anywhere or talk to anyone on the phone, or pay any delivery fees or ANYTHING! Awe.Some.

Basically, I could not have enjoyed my ScoreBig experience any more. I am super-happy to know it exists, and I hope you will be too! Head on over to their website to see what events are going on in your area and see what kind of a deal you can score! (Then come back here and brag about it in the comments!!)
Happy Scoring!