Last week I told you what I learned on my summer "vacation" – how to French braid Sophie's hair!  Well, I wasn't the only Rapson who wanted to learn something this summer.  For a long time, Sophie has been able to recognize a lot of words and in the spring I noticed several times that she was really trying to read.  Not just books, but road signs, cereal boxes, what I was looking at on Facebook *ahem* – you know, anything with words.
So, at the beginning of summer when I received a pitch from School Zone Publishing asking if I'd like to review their "Start to Read" series of phonics readers, I was all, "Why not?"  They arrived just as summer began and we got started.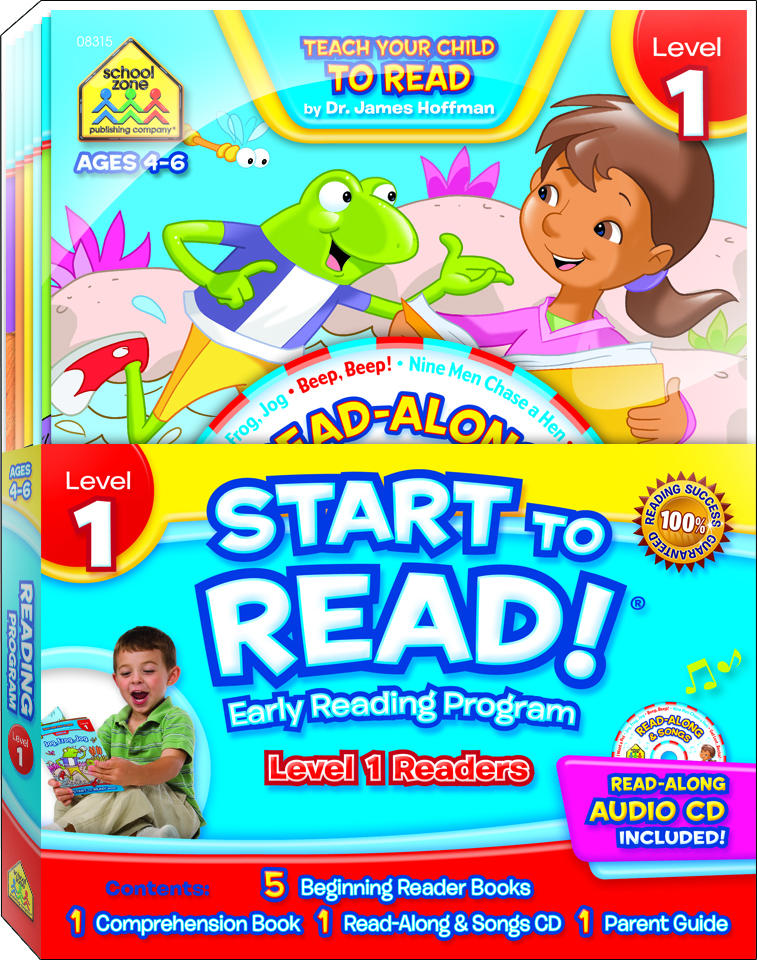 The set comes with 5 readers, a comprehension workbook, and a CD. At first I thought listening to the books on CD while looking at them was going to be weird and unnecessary(I mean, after all, can't she listen to ME reading them?) but she LOVED listening to the book being read on CD while she looked at it. And then, loved reading along with the CD.  After that, we progressed to where I'd read a page, then she'd read the next page.  Soon she was reading on her own.  We went through all five books like that and then the workbook, which she ADORED.  Sophie loves a good workbook!  There was a good variety of comprehension activities in the workbook and she really had fun with it.  I had to stop her from doing the whole thing in one sitting like she wanted to do.
We went on vacation July 2, and we were done with the series by then.  Since then, we have not picked up any of those books to read, so last night, I got out Sophie's favorite from the series, Get Lost, Becka and bribed her with a piece of candy to read it on video.  So, again, she hasn't read this book for 6 or 7 weeks – I think she did great!  What do you think? (Oh, and um, sorry about all the snot wiping, she had been crying a few minutes before over something I was denying her because I am SUCH A MEAN MOM, I can't even remember what. Oh, and then sorry also about Joshua's BANSHEE yelling in the background, he was entertaining Jonah while Sophie and I made the video!)
What do you think? I think she did a great job! We've since moved on to an Usborne Books phonics set and she is doing great with those as well. I am proud of my little reader!
Thanks, School Zone, for letting us try the books!