I hate my hair.
I addition to it being not curly but not straight, gray, and all around annoying, it is so thin on the top front of my head.
It makes me cringe to call attention to it, but take a look…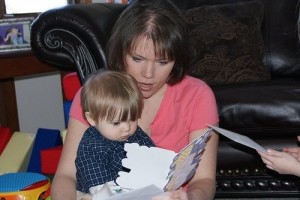 The thin part on the top of my head is the bane of my existence. I've been trying to do things that will make it better (or at least hide it)… vitamins, different shampoo, styling products, etc. A year or so ago I discovered something that did help quite a bit – highlights. I had resisted highlights for so long because frankly I was cheap, but once I got them I was hooked. So every few months, I grit my teeth and hand over my credit card to the girl at the salon. Expensive? Sure. Worth it? Definitely.
I've come to terms with the expense. Just recently I told my sister that the only way I've found to make my hair situation better is to throw money at it. It was then that I had a revelation – I was getting pricey cuts and color and using high-end hair goo, but I was using cheap hair appliances every day. My hair dryer and straightening iron together probably didn't cost $50, and it seemed entirely possible that better models would produce better results. I started scouring the internet and found folica.com. Not only do they have every hair tool anyone could ever possibly need, the customer reviews are amazing. These people are serious about their hair! Since I was clueless, the reviews were a big help to me.
I reached out to the people at folica and they were nice enough to send me the Sedu Revolution Pro Tourmaline Ionic 4000i (say that 5 times fast) hair dryer for review.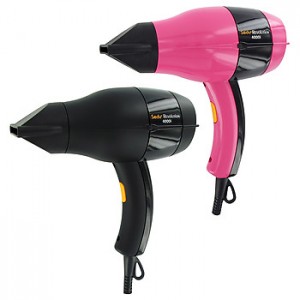 This hair dryer is definitely an investment – the regular price is $200 (although it's on sale for $159.99 right now), but I love it. It is a serious machine – according to the website, the air comes out at 80 mph. It has an on/off button for the ionic generator, which is great when you're going for a smooth, straight look, but not so much when you're looking for volume. It's got 6 different speed/heat settings and a cool blast button as well.
I can seriously tell a difference in my hair when I use this dryer, as compared to my drugstore model. I'm not sure how to describe it, but it leaves my hair more fluffy (in a good way) and full, which is critical for hiding my thin spots! I also love how quickly and thoroughly it dries. Kate has really thick hair (lucky girl) that's below her shoulders, and most of the time she and I lose interest in getting her hair dry when it's about half way there… the Sedu Revolution cuts the time it takes in half, so she is no longer going to bed with a wet head.
I liked this new hair dryer so much that I asked Andy to buy me a professional-grade flat iron as a Christmas present (and by asked I mean sent him a link with a coupon code for $25 off if he ordered it that day. Which he didn't. So I did. He stuck it in a gift bag on Christmas Eve, though, so it was still technically a present). After scouring Folica for the perfect model, I decided on a Sedu 1.5 inch flat iron.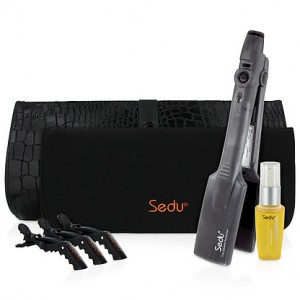 The flat iron came in a set with clips, a heat mat, Sedu Antifrizz Polishing treatment (which I am obsessed with) and a black clutch for travel. It's regularly $244.98 (*gulp*) but thanks to some CRAZY sales they had going on, I managed to score it for about $80. Even that is about 4 times what I've ever spent on one before, but it is worth every penny. It makes my hair so straight and smooth, I feel like I just came out of the salon.
These new toys have made such a difference in how I feel about my hair and about myself as I head out the door every morning. Like I said – Expensive? Sure. Worth it? Definitely.
****
I'm linking up to Things I Love Thursdays at the Diaper Diaries!