…I totally was in heaven having my own room and no baby monitor to listen to crashed and was out like a light… and slept a little too well – I didn't wake up until 7:00, and we had to be downstairs for breakfast at 7:15. I rushed around and got ready in record-setting time, and was just a couple minutes late for our buffet breakfast, where a chef was waiting to custom make our omelets. Mmmmm.
We had a great discussion after breakfast about traveling to Disney with families, and I learned a lot from the expert Cast Members who were there to answer all of our questions. I was also thrilled to hear their recommendation of the Caribbean Beach Resort as their favorite moderate hotel, as that's where we're staying in August! Disney has three tiers of resorts – Value, Moderate, and Deluxe. We stayed at Pop Century, a Value resort, when we were there two years ago, and it was great. It was fun, completely suited our needs, and the price couldn't be beat. But, since Disney was running such great specials this spring, we decided to stay in a Moderate this year. I had never stayed on Disney property until our trip to Pop, and now I can't imagine doing it any other way. There are just so many benefits, including the Magical Express, as I mentioned before, and the Disney Dining Plan, of which I'm a big fan. We had a great conversation, and I was able to offer up my best Disney tip, which I'll also pass on to you – Garden Grocer. You can go online and order groceries, which will be delivered to your room whenever you schedule it. We've used this service twice, and had great experiences both times. We've ordered breakfast and snack items, pop, and bottled water – all of which you can take into the parks with you… which means BIG savings. (And here's my other best tip.)
After that, we got a tour of the family suites at the All Star Resort, one of the Values, which sleeps up to six people. We all thought it was pretty great (and it was) until we made our next stop, at the newest tower at the Contemporary Resort. I can't even describe how amazing this resort is. The "regular" rooms are bigger than some houses, and the suite… well, part of me wishes I didn't know such things existed! It was two stories, and was just stunning. The front of the entire suite was a huge window that spanned both floors, and offered a spectacular view of the Polynesian, the Grand Floridian, and the Magic Kingdom.
They pretty much had to pull all of us out of there, because we never wanted to leave.
They wouldn't let us take pictures inside because it's that big of a secret, but here we are after our tour. (P.S. Thanks, girls, for telling me my hard hat was on crooked and I looked like a moron. Good looking out.)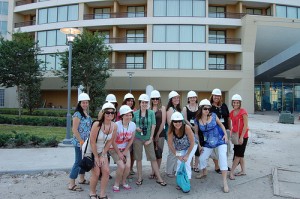 Our next tour was of the Baby Care Center at the Magic Kingdom. I had heard of this place but had never been inside, but I'm sooo glad to know of the benefits before we bring the kids back this summer! They have everything you'd need for a little down-time during a park visit – a quiet, dark nursing room with rockers, a room with a TV and cartoons for older children who need a break, changing tables that are immediately sanitized after each use, and a little store that has everything from baby food and formula to extra onesies and pacifiers. It's a great resource for families with small children!
We had some free time at the Magic Kingdom after that, so we had another Dole Whip and were off to ride some rides. I was excited that we hit Big Thunder Mountain Railroad, one of my childhood favorites. Such fun. After that we had lunch at the Wave, a new restaurant at the Contemporary that serves fresh, whole foods, grown in and around the Florida area. While others were having salmon and anti-oxidant cocktails, yours truly was chowing down on a cheeseburger and margarita. But it had a whole-grain bun, so it was all good, right? Right.
After lunch we went back to the hotel briefly to get ready for dinner. As I sat down to send a couple tweets, someone knocked on my door. It was room service, delivering cookies and milk! SO cute.
We headed out to Disney's Hollywood Studios.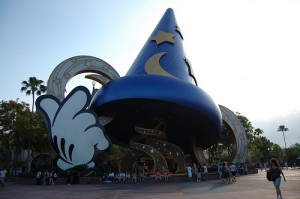 (Photo taken by Lisa)
We got a backstage tour of the new American Idol Experience.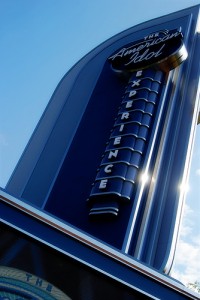 (Photo taken by Beth)
Each day, they let park guests go through the same audition process that people go through for the show (except in the first round, they always give positive feedback even if they're telling you no! So if I tried out, they might be like "Well, Emily, you can't carry a tune in a bucket and you dance like Elaine Benes, but we really like your Croc flip flops!"), and then three people compete against each other every couple hours, and the winners of each round get to come back for the finale show. The winner of each day's finale show gets a "golden ticket" (I think that's what it's called, but maybe I'm getting it confused with Charlie and the Chocolate Factory) and they can go straight to the front of the line at the tryouts for the real Idol. Pretty cool!
After our tour, we got to see one of the competitions. Here's Lisa, Grayson, me and Leanne before the show.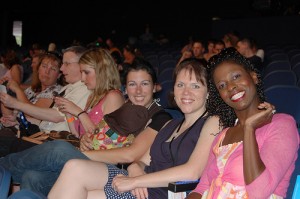 The stage looks exactly like the real deal.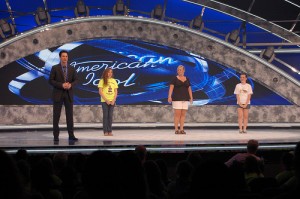 (Photo taken by Lisa)
The show was super fun, and after it was over, we went to dinner at the Brown Derby. I have heard about how good this restaurant is, so I was excited to try it out. It was as good as I had hoped, and the company was better. We had so much fun eating, drinking, laughing, drinking, talking, and drinking. Here's Beth and me.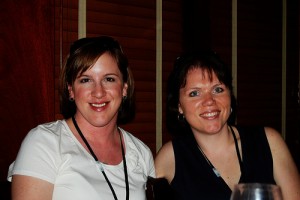 After that, we headed back to the resort, and a few of us went to JellyRolls, a piano bar on the Boardwalk. The Boardwalk is amazing. I just love it.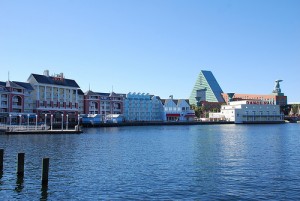 Finally, we headed back to the hotel. Again, I completely crashed, but fortunately I woke up on time the next morning! We had one last breakfast together… and we were joined by a couple special guests.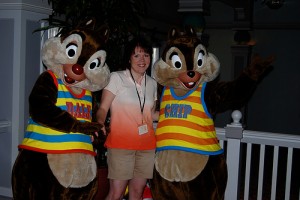 (Photo taken by Beth)
We took a bunch of pictures, and said goodbye to our new friends. Here's me and Andrea, even though we wouldn't say goodbye until we absolutely had to get to our individual gates at the airport!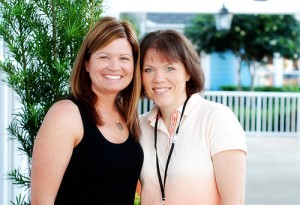 (Photo taken by Beth)
Those of us with later flights still had a few precious hours before leaving, so Beth, Andrea, Christine and I went back to the Magic Kingdom to do a little shopping for our kids. (And ourselves… we bought some kickin' Mickey shirts!) We had lunch at the hotel, and then said our goodbyes. As Andrea and I waited for our Magical Express, I was so sad to leave. I was so anxious to see my family, but I wished they could get on a plane and come to me rather than the other way around!
Andrea and I managed to make even the wait at the airport extremely entertaining, and we were cracking ourselves up as we talked and Twittered. She introduced herself to the pilot of my flight, whom we happened to sit down next to, and proceeded to get his entire life story and romantic history. I was very disturbed to discover he was younger than me. But he told me not to worry, that he'd been flying since his senior year of high school. Which must have been, you know, three years ago. (What's that you say? That even though he's younger than me, that doesn't mean he's fresh off the varsity football team? I refuse to believe it.) In any case, he proved to be a very capable pilot and we had a safe flight home.
As I walked toward the baggage claim at the Dayton International Airport, I spotted Andy and the kids staring up at the arrivals/departures board. As I started walking over to them, I caught Kate's eye, and she ran so fast that she was halfway to me before Andy looked up and noticed she was gone.
That may have been the best part of the trip.
******
So I know I've rambled on and on about what all "we" did on this amazing trip, but I just have to say more about the women who comprised this outstanding group. They were all so sweet, so fun, and so smart, and I feel very lucky to have spent the weekend with them. Again, they are:
Lisa from Crazy Adventures in Parenting, Christine from From Dates to Diapers, Megan from Velveteen Mind, Amanda from Oh Amanda, Marsha from Sweatpants Mom, Lindsay from Surburban Turmoil, Beth from I Should Be Folding Laundry and Andrea from Mommy Snacks. Check them out… you will be glad you did!
I also want to thank Maria Bailey from BSM Media, and Leanne Jakubowski and Laura Spencer from Disney. They are amazing hosts, and even more amazing women. I was absolutely inspired by each of them.