A couple of weeks ago when I was on vacation at my parents' house in Virginia, my mom approached me with a notebook. "I want to show you something interesting," she said. What she showed me was not only interesting, but very enlightening, embarrassing, and well, hysterical. It was a chart she had made – a family tree actually – detailing exactly how it is that Emily and I (and our siblings, parents, grandparents, etc.) are related. And then related again. As in, inbred.
That's right folks, the tree doesn't branch too far in some places. As a matter of fact, Emily and I are not only first cousins, we're also FIFTH cousins. My brothers aren't just my brothers, they're also my FIFTH cousins. Same goes for Emily and her sister. And my mom? She's my fourth cousin once removed! Just like Emily's dad is also her fourth cousin once removed. Here's the chart my mom made to explain it to me: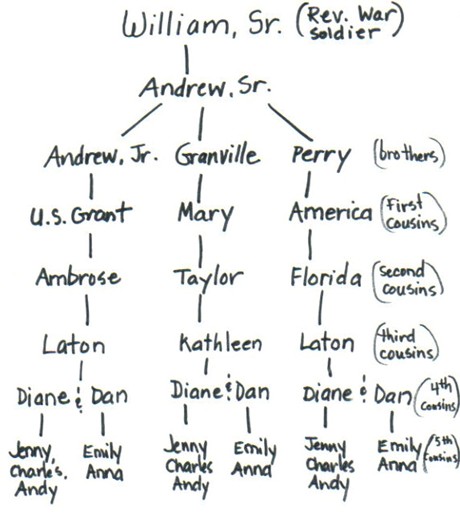 So. Let me walk you through my mom's little piece of family history. When you see people's names starting to appear multiple times you know something's a little out of the ordinary! It all starts with William Burns, Sr. He came out of the hollers of Eastern Kentucky and fought in the Revolutionary War. Thanks to him, my mom just got inducted into the Daughters of the American Revolution. (BOO-YAH! We may be inbred but we're still THE awesome!) Then he went back to the holler and had a son, Andrew. We're going to skip forward a little bit and concern ourselves with three of Andrew's great-grandchildren, Ambrose, Florida, and Taylor. These folks grew up in the holler as second cousins. Things start to get a little sticky when Ambrose and Florida get hitched and have several children, one of whom is a handsome boy named Laton. Meanwhile, Taylor (second cousin to Ambrose and Florida) marries someone who is not his cousin (thankfully) and has a beautiful daughter named Kathleen. When they are teenagers, Laton and Kathleen meet at boarding school in Eastern Kentucky and fall in love. Never mind that they are third cousins. They didn't meet until high school so that should negate their shared DNA, right??? They get married after World War II and have two children, Diane (my mom) and Dan (Emily's dad). Although Diane and Dan are siblings, they are also fourth cousins due to the fact that their parents share the same great-great-grandfather.
Still with me?
This love story leads us to the aforementioned fact that Emily and I are not only first cousins but fifth cousins, and all that other freaky stuff I already told you.
The other conclusion that can be made from this is that a small amount of inbreeding is a good thing. After all, Emily and I are both geniuses who graduated early from college, are hilariously funny and talented writers, and have beautiful children. Right??
Try not to be jealous, people.
I'm just sayin', the next time you go to a family reunion, you should totally scope out your kid's future spouse. Just make sure they're at least third cousins. You don't want your grandchildren to have two noses, do you?