Well hopefully you know where they are… but do you know how they are?
I haven't talked about ovaries for a while (remember that time I skyped with Kelly Ripa?), but since September is Ovarian Cancer Awareness Month, it's high time I did.
In addition to it being September, this post is also timely because I just had my yearly blood test and ovary ultrasound… and since Dr. Oz got a colonoscopy on his show and Bob & Tom do their prostate exams on the air, I figured I might as well document my check up with a vlog!
Just kidding! I would not subject you to that. But I did have those tests run last week, and everything checked out just fine. Woohoo!
So, back to the subject at hand – Ovarian Cancer Awareness Month. If you've hung around this blog for a while, you've heard this all before, but here's a refresher…
Ovarian cancer is the leading cause of death from gynecologic cancers in the United States and is the fifth leading cause of cancer death among U.S. women. It's often called the "silent killer" because the symptoms are often vague and by the time it's diagnosed, it's often in an advanced stage. There is no effective screening test for ovarian cancer, but there are tests that can detect it when patients are at high risk or have early symptoms. The most effective way women can protect themselves against ovarian cancer is to learn the signs and symptoms – the OCRF website is a wealth of information, and I encourage you all to go there and learn more, but here are the basics:
Signs & Symptoms
• Bloating
• Pelvic and/or abdominal pain
• Difficulty eating or feeling full quickly
• Urinary symptoms (urgency or frequency)
Risk Factors
• Increasing age, with highest occurrence in women over 50
• Family or personal history of ovarian, breast, endometrial, or colon cancer
• Uninterrupted ovulation (having no pregnancies, infertility, low parity)
• Presence of gene mutations, especially BRCA 1 or BRCA 2

Prevention & Risk Reduction
• Use of oral contraceptives for more than five years can reduce your risk by approximately 50%
• Multiple pregnancies, having first full-term pregnancy before the age of 25
• Breastfeeding
Since the first time I posted about ovarian cancer, I've been floored by the amount of awareness I've seen spread through blogs and social media. The Ovarian Cancer Research Foundation and their partners (like Electrolux, L'Oreal, and Seventh Generation) have been doing an amazing job of getting the word out about this terrible disease.
There's even an app for that – Previvors is a free iPhone app that has a simple 7 question quiz to help you determine your level of risk.
But like I've said before… it is so, so important that we all know our bodies and listen to them. Familiarize yourselves with the signs & symptoms above, and check out the picture below that simplifies it.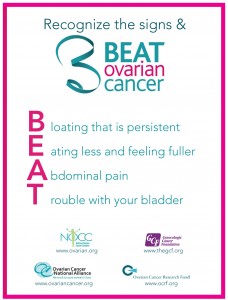 Let's BEAT ovarian cancer.
–The End.