So something crazy happened to me today… I skyped with Kelly Ripa! (If you're my Facebook friend, you'll note that my status update says the exact same thing – but I just like saying it, it makes me feel cool). It was so fun, and she's just as friendly and approachable as she seems on TV. She also has a very important message she wants to share with all of our readers.
Kelly Ripa and Electrolux appliances have teamed up to support the Ovarian Cancer Research Foundation (OCRF), whose mission it is to fund research to find a method of early detection and ultimately a cure for ovarian cancer. They're going back to basics in terms of raising money and encouraging everyone to have a lemonade stand… but with an up-to-date twist – it's all online. For every virtual lemonade stand created here, Electrolux will donate $1 to OCRF, and after you create your stand, you can raise even more money by selling your own virtual glasses of lemonade. Oh – and you'll also be entered to win an amazing French Door Refrigerator from Electrolux!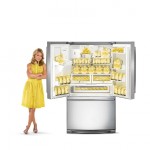 This is a hugely important cause, and not one we often hear about. But believe it or not, ovarian cancer is the leading cause of death from gynecologic cancers in the United States and is the fifth leading cause of cancer death among U.S. women. It's often called the "silent killer" because they symptoms are often vague and by the time it's diagnosed, it's often in an advanced stage. There is no effective screening test for ovarian cancer, but there are tests that can detect it when patients are at high risk or have early symptoms. The most effective way women can protect themselves against ovarian cancer is to learn the signs and symptoms – the OCRF website is a wealth of information, and I encourage you all to go there and learn more.
I would have been happy to Skype with Kelly Ripa and spread the word about any important cause, but this one hits particularly close to home. My mom died of ovarian cancer at 36. And people? That shouldn't happen to anyone.
So please, go to ElectroluxAppliances.com and open your own virtual lemonade stand. It's easy and fun, and they have all the tools you need to share your stand and the message of ovarian cancer awareness with your friends via Facebook, Twitter, or email. Click here to see the stand I made (you can even buy a glass if you want!).
Remember when I said I Skyped with Kelly Ripa? Here's the video. Please take a minute to hear Kelly's important message about her involvement with OCRF
Is that cool or what? A huge thanks to Kelly Ripa and Electrolux appliances for speaking with me and supporting such an important cause, and to Maria Bailey and BSM Media for thinking of Mommin' It Up.