As you may have heard, Jenny and I are participating in Frigidaire's Make Time for Change campaign… and in the last few weeks my kitchen – and my cooking habits – have certainly changed!
Check out what I used to sort my mail on use: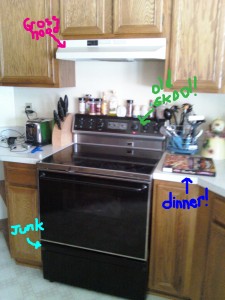 It worked, and for how little I used it, it was fine (except for the fan/hood thing that I could never get clean. That was nasty). Needless to say, though, it didn't really inspire me to cook.
However, this?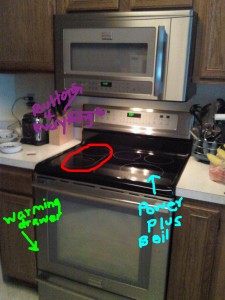 This inspires me to cook. (And they said it could never be done. Pfft.)
I love the look of the new range and microwave – it changes my entire kitchen! Except now I need a new refrigerator and dishwasher. And new floors, countertops and curtains. But anyway. If you just look at this part of my kitchen, it looks awesome.
Beyond how it looks, though, is how amazingly functional both appliances are. I have to admit, when I first got them, I was afraid to use them! I am not kidding when I say it was a week before I had the nerve to try them out, and that was only after I had read each owner's manual very thoroughly (something I never, ever do!). Once I did, though, I couldn't believe how easy it was to… well, cook!
I have really only begun to make use of all the features, but here are a few that I already love.
First… the microwave. So many types of food are pre-programmed. If I want to bake a potato, I hit the baked potato button. You know what's brilliant about that? I don't have to tell it how many potatoes are in there or how long to cook – the microwave senses (based on steam) when the potatoes are done. Is that crazy or what? Another thing I've noticed about the pre-programmed features are that the cook times are way different than what I would typically put in. For example, I was making Sam a hot dog the other day, so I hit the hot dog button and "start," and I noticed the timer said something like a minute and 10 seconds. I thought for sure the hot dog was going to explode all over the place, but when I took it out it was perfectly cooked. The difference is the microwave uses different levels of power to cook different things, whereas I never use anything but full power. This makes for much more even cooking! I have also come to love the "soften" button (for cream cheese and ice cream) – who knew what a difference using softened cream cheese would make? (Ok, everyone but me, probably.) The "melt butter" feature works perfectly, too.
And have I mentioned that it's pretty?
Ok, so onto the range. Like the microwave, it has buttons for everything. Rumor has it that I could cook 100 chicken nuggets in 10 minutes, but I've yet to have the occasion to try it out. I'll keep you posted on that. The whole point of this line of products is to save time, and this range really makes that happen. It has "PowerPlus Boil," which boils water in a fraction of the time my old stove did, and "PowerPlus Pre-Heat" that heats up the oven in no time. In fact, I am so used to starting the oven when I start to prepare whatever is going in it, that the oven is ready way before I am! I also like the warming drawer at the bottom, which I used to keep the perfectly-cooked baked potatoes warm when they came out of the microwave. Which now that I think about it, the microwave also has a "keep warm" feature. Oops. Also, see the red circle I drew up there? The front and the back burner are connected by a burner in between them, so you can have a large space for cooking if necessary. I really want to get one of those long pancake griddles and try it out!
So anyway, this new set-up has been a good reason for me to finally make an effort with this cooking thing. I am trying to get better. I can't do it on my own, though, so I've enlisted the help of Casey from Moosh in Indy, who's also on Team Range/Microwave, and she's doing her best to teach me to cook via email. More on that later, but trust me, it's going to be a classic! She's already starting to pull out her hair – check out her post where she wonders what she's gotten herself into.
Stay tuned for more of my adventures with my new appliances – I am cooking up some fun posts! (sorry, that was terrible.) In the meantime, click over to Make Time for Change, and play Jennifer Garner's Spin & Win game for a chance win prizes, including a new time-saving Frigidaire Affinity washer/dryer. Plus every day you take a spin, Frigidaire donates $1 to Save the Children as part of their $250,000 commitment to this worthy cause.
I wrote this review while participating in a Test Drive Campaign by Mom Central on behalf of Frigidaire and received a Frigidaire Range/Microwave to facilitate my review.