One of the benefits (to me) of Jenny having a job is that she has no time. (Having a job is tough, yo.) Therefore when Wonder Forge reached out to see if she would do her annual game review, she passed the honors on to me, which is awesome since they have several new Star Wars games out and I have several Star Wars fans at my house!
The first one we checked out was Galaxy Hunt. Sam was pretty pumped.
This game requires each player to remove a certain piece from the board without causing the spring-loaded bar to move. It's very easy to play, and requires problem-solving as well as some basic math skills, as each piece is worth positive or negative points.
We also played Star Wars Star Destroyer Strike.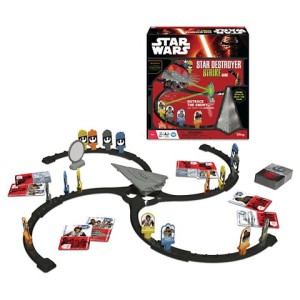 Here's the description:
Strategy and suspense collide in the exciting Star Wars Star Destroyer Strike Game. The Star Destroyer Finalizer is out to eliminate the Resistance. Advance your heroes to safety before the starship of the First Order has you in its line of fire. Evade surprise blasts that can happen when you least expect it, and outwit your opponents by bouncing the "laser" blasts off the deflector shield towards them. It's fast-moving galactic fun for the whole family.
This was also a lot of fun, and Sam loved the lights and sounds. It requires some strategy, which makes it fun for the adults as well as kids. One thing that is a little different is that it's set up on a track rather than a board. Pretty cool!
Confession time – the thing I liked MOST about these two games is that while they were Star Wars themed, those of us who are a little less, un, well-versed in the Rebel Alliance could play along without any trouble. That's great for me, because if Star Wars trivia is involved, I can't hold a candle to Sam or Andy.
Which brings me to…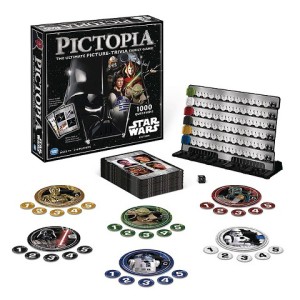 Pictopia has been on my "to buy" list for a while now. I have heard nothing but good things about it. The Star Wars version didn't disappoint! It contains more than 1,000 questions about the planets, ships, villains and heroes, and you can wager different amounts depending on your confidence in your knowledge. (Needless to say, I took the conservative route.) This game is unique in that it combines teamwork with individual play, which puts an interesting twist on it. We liked the game so much that we ordered the Disney version for Kate for Christmas!
Wonder Forge has everything you need to make Christmas break fun! In addition to the Star Wars games, they've got a Peanuts Snoopy Flying Ace game, The Good Dinosaur Roarin' River game, and more. Stay up-to-date on all of their offerings by liking their Facebook page!