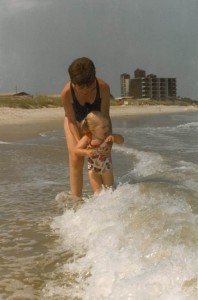 My mom died on October 27, 1986. How we've all made it 24 years without her is nearly incomprehensible to me.
The anniversary of her death is hard each fall, but it seems as though sometimes it's harder than others. This has been one of the more tough years. I don't know why, exactly, but it has.
I've given this a lot of thought, and I have decided that instead of rehashing the sad and difficult stuff that has been going through my mind recently (you're welcome. But I reserve my right to be depressing next year), I will think happy thoughts and focus on being thankful.
I'm thankful for the time we had with her, for the strong foundation she gave my sister and me that enabled us to be happy and successful adults. I'm thankful to her and my dad for providing an example of what marriage should be. I'm thankful for the memories we have to share with our kids.
But most of all, I'm just thankful she was my mom.