*This post is sponsored by Meijer. All opinions are my onw!
If you've been following this blog for any length of time, you know that I am uber-vain and I LOVE my beauty products!! Mascara, blush, lipstick, eyeshadow, BRING IT ON. I want it all! Now, I love to coupon and get my beauty products for cents on the dollar, but I know a lot of you just AIN'T GOT TIME FOR THAT. And, you want the convenience of a one-stop shop, too. If that's you, I've got great news for you: there's a heck of a beauty sale at Meijer this week. You can get buy two get one free cosmetics and BOGO 50% on almost everything else! And if you DO  happen to clip a coupon or two, there are some great ones in the paper this week and online at coupons.com to help you get even better deals.
Above are some of my favorite cosmetic products that Meijer sent me to review. I have to tell you that that L'Oreal Paris LUMI powder glow illuminator is a real superstar. Not only do I use it to highlight my cheekbones, I also use the darker part of it as bronzer and contour between my jaw and cheekbone AND, in the photo below, I am also using the lighter shade of it as eyeshadow on my brow bone and to highlight the inner corner of each eye. This is such a fantastic multi-tasking product! There are a couple other colors available and I am dying to try them as well.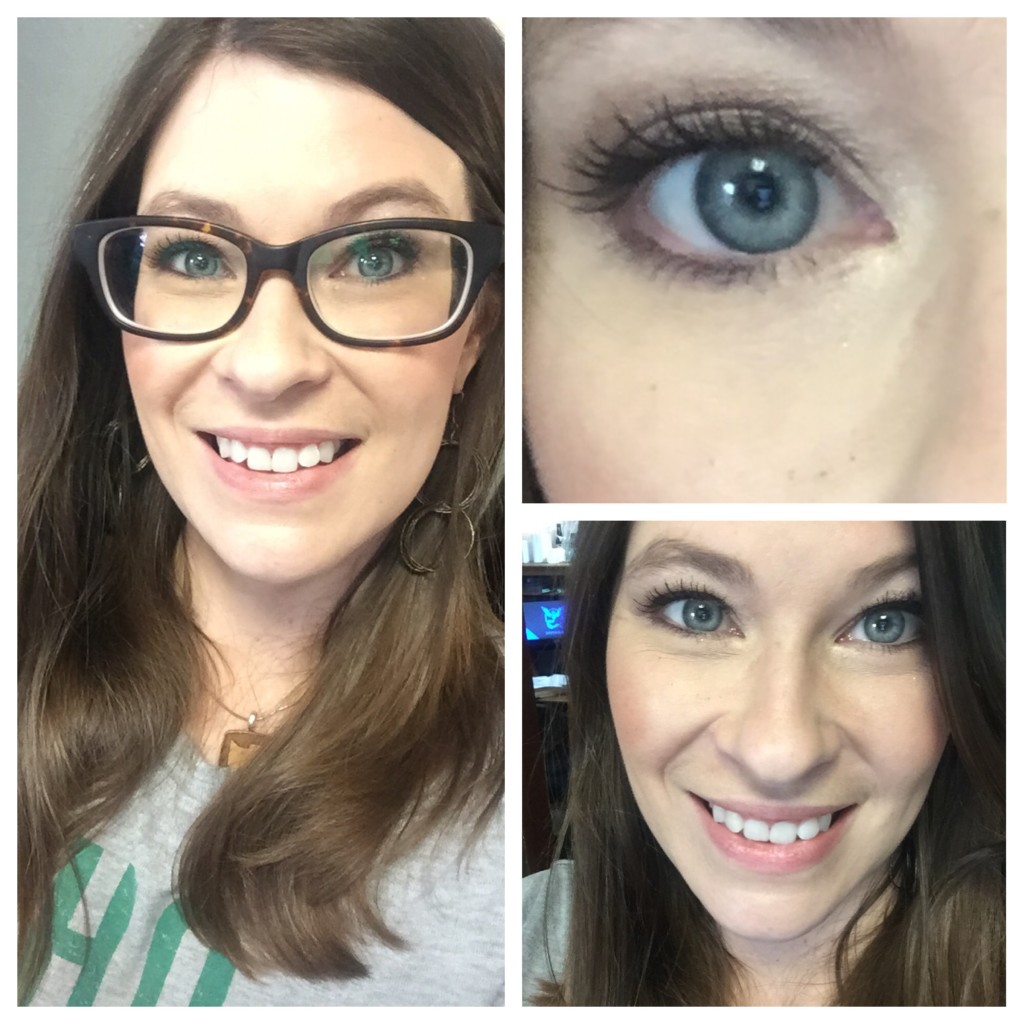 Another favorite beauty product, which I've never tried before, is this NYX lib butter in Merengue. Here, I used it alone over a neutral lip liner, and it stayed on REALLY well – more like a lipstick than a gloss. I love the fresh, natural, light look of wearing this lip butter with just liner, but you can also wear it over lipstick too, to add some flair and long-lasting shine to your favorite lip shade.
In all of these photos I am also wearing a FANTASTIC pressed powder from Maybelline over my foundation. It's called Maybelline Better Skin and I love it! It's really long-wearing, and it's not heavy but it goes on great – a little goes a long way. Just one pat of the applicator will do it, you don't have to apply multiple coats. It definitely makes me want to try the res of the Better Skin line.
This next photo gives me the opportunity to showcase another new lip product I'd never tried before: Maybelline Color Jolt intense lip paint. I LOVE IT. It goes on really easily with a soft applicator and it stays on for a looong time. I just applied a small amount over lip liner — a little goes a long way!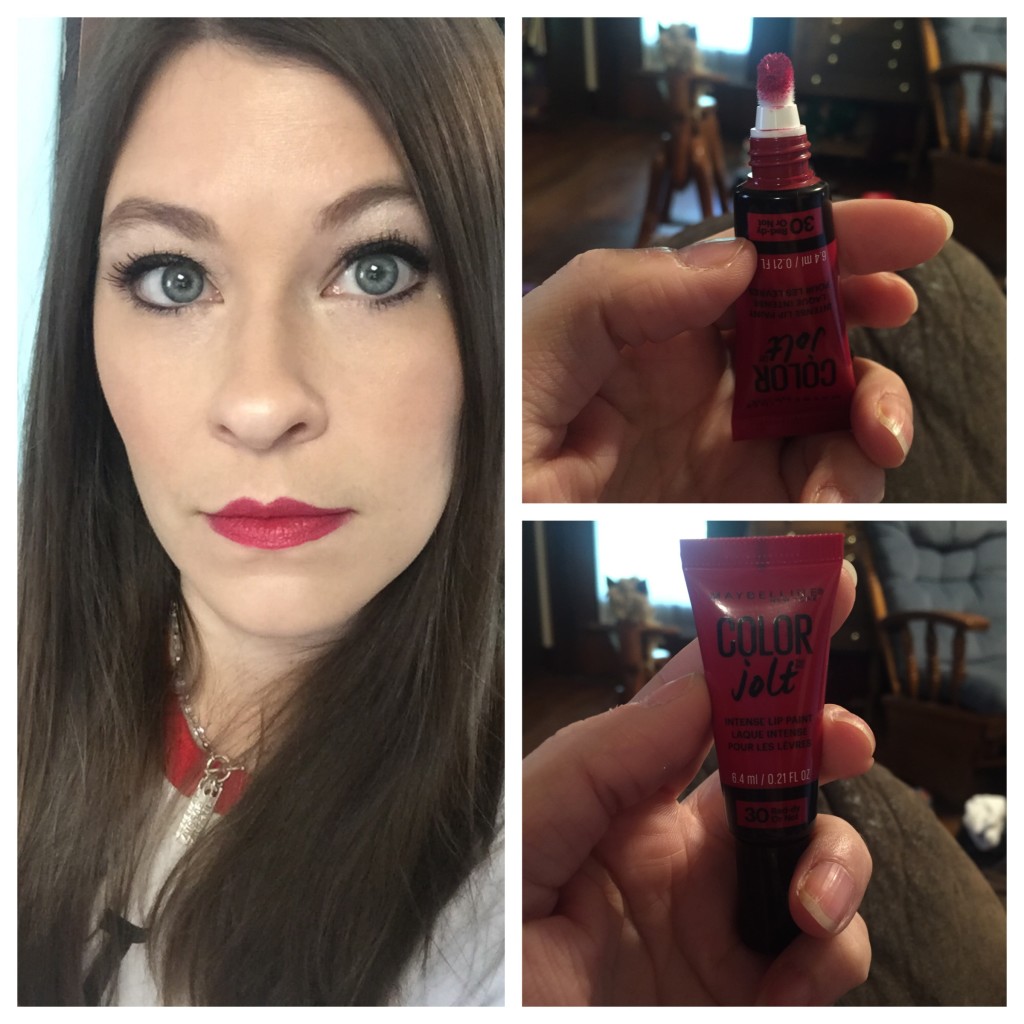 My super-smooth hair in the photo above should also be commented on. It's thanks to these three amazing products: L'Oréal Paris Extraordinary Oil Shampoo and Conditioner and the Conair wet brush. This shampoo and conditioner is so amazing, it totally smooths by dry, wavy-frizzy hair. It works SO well that I no longer have to use the smoothing styling products I used to put into my hair before I blow it dry. So by using this shampoo and conditioner I've been able to cut a product out of my routine, saving me time and money. PLUS, it makes my hair WAY easier to straighten once it's dry and helps the straight last longer, too. After two weeks of use, I am a BELIEVER.
The Conair wet brush cuts tangles out of my wet hair like nobody's business. I have really thick hair and I can't believe how easy it is to brush out when it's wet with this brush. In addition, it works great on my daughter's long hair and has GREATLY improved our relationship when I brush her hair out after she showers! I am not even kidding! How did I not KNOW about the Conair wet brush!! I want to cry for all the years I've lived without it.
There are some other notable products that I'm going to cover in a Facebook live video that I'm going to do on our Mommin' It Up Facebook post tonight. I will embed that video here when I'm done. The video will include Maybelline Color Tattoo eye shadow and Neutrogena MositureSmooth color stick.
I hope to see you on Facebook Live tonight, but until then…get to Meijer for some amazing beauty deals this week, September 11-17th!
Updated with Facebook live video below! Check out how I use the L'Oréal Paris LUMI True Match powder!