I'm not a mini-van mom. I would love to be – really, I would. I think mini-vans are sweet, and I pretty much lust after the Toyota Sienna.
However, there are two reasons I'm not – and am highly unlikely to become – a mini-van mom.
and… Reason #2: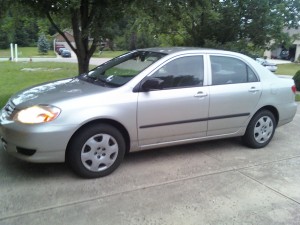 We bought the Camry in 2002 – just barely used, with 18,000 miles. Now, eight years later, it's going on 158,000 miles… and still going strong.
We bought the Corolla in 2004 – brand new and fully loaded (and by fully loaded, I mean with windows that you roll up. Like, physically roll up. Remember those?) Anywho, it's only got 138,000 miles on it.
As you can see, we drive the crap out of our cars. We rack up the miles, let the gas light come on (and then stay on for 30 miles or so) before we bother to fill up, and we have the oil changed sporadically at best (Bobby Rapson, I can see you cringing!).
These cars? Can take it.
We've never had the first problem with either one of them, and haven't had to do anything other than replace the brakes and tires every once in a while (btw, don't buy tires from WalMart. Don't say I didn't warn you). They both get good gas mileage (particularly the Corolla, which is why I drive it 65 miles to and from work every day, even though I prefer the more lush Camry!) and they have plenty of room for our kids and all their stuff.
Also – they've been paid off for years.
You know what that means? I am never getting my mini-van.
*********
This post was written as part of the "Every Toyota has a Story" campaign. To share your story, visit Toyota's Facebook page (where someone posted of a Corolla that has 557,000 miles on it – ugh, I am soooo never getting that van!)