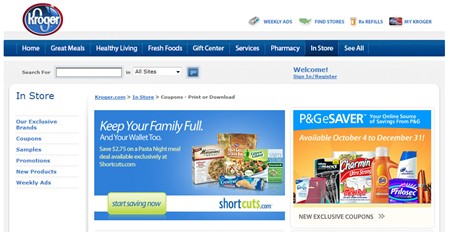 Many moons ago, Emily and I told you how Kroger.com was the bomb. (Ooh do you like that rhyme? I should be a rapper, no?) You may know from reading my Super Savings Saturday posts how much I love Kroger, so that they have such a great website that helps maximize savings is really the icing on the cake! Right now I am loooving their eCoupons. They are really helping me save! When you log onto Kroger.com, you will see that they have two different places to load eCoupons – one from Shortcuts.com (a service of AOL) and one from P&G. Both are very easy. You just create a username and password, put in your Kroger Plus card number, and choose which coupons to add. Then, when you scan your card at checkout and buy one of the items you have an eCoupon for, the eCoupon just comes off automatically! It is awesome. I have done it several times, and it has worked perfectly every time. The best part about this is that you can use one eCoupon and one paper coupon for the same item to maximize your savings! Woohoo!
Here are some other ways Kroger.com can save you money!

Printable Coupons –Forget to pick up the Sunday paper? No worries. Now you can print coupons directly from the Kroger.com site.
Fuel Rewards – Customers throughout The Kroger Co.'s family of stores can accumulate and redeem fuel discounts they earn by shopping at Kroger-owned stores at participating gas stations the retailer operates across the country. Most of the fuel discount programs offered by Kroger and its family of stores reward customers with a minimum of 10 cents off per gallon of gas for every $100 they spend in a store.
Kroger Pharmacy – Kroger Pharmacies offer a 30-day supply of more than 300 prescriptions for only $4, or 90-day supplies for only $10. That means you can save on generic drugs used to treat a wide range of medical conditions. At Kroger.com you can download a complete list of eligible medications and check to see if your local pharmacy participates.
1-2-3 Rewards MasterCard –Sign up for a 1-2-3 Rewards MasterCard and earn free groceries when you shop. Each time you use your card you'll earn points – 1 point for every dollar spent outside the store, 2 points for every dollar spent inside the store and 3 points for every dollar spent on any of the Kroger family brands. For every 1,000 points you earn you'll receive $5 in FREE groceries.
eCoupons from Kroger.com are what work for me when I am headed to Kroger. For more great Works for Me Wednesday ideas, check out Rocks in My Dryer. BUT before you do – leave a comment on this post and you will be entered to win one of TWO, COUNT 'EM TWO $25 gift cards from Kroger!! Yay! Thanks Kroger! Comments will close and Random.org will pick the winner on Saturday at 8 a.m. Happy entering!