Ok so I can't exactly say that the Great Toy Purge of 2009 works for me, because I haven't exactly done it yet. I plan to, but I'm not sure how.
Which is where you come in.
I am making my Works For Me Wednesday post a backwards WFMW, because I need to know what works for you.
We have a full, finished basement, and while it is big and a wonderful space for the kids to play, 99% of the time it is a complete disaster. There are toys everywhere. (BTW, I swear we do not buy our kids lots of toys. I think they are like gremlins and multiply at night). I would show you pictures but I'm too embarrassed. And really, the kids have no idea what toys are down there and they can't even enjoy the space, seeing as how they can't walk through it.
So, my goal is to purge the basement of all the outgrown, broken, or generally unused toys before the influx that is bound to happen at Christmas. What I'd like to do is buy one of these for the basement (and one for my dining room, while I'm at it), so that everything has a home and can be nicely organized.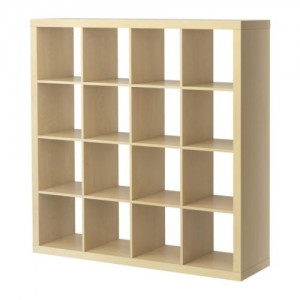 The Ikea Expedit. Isn't it lovely?
So here's what I need to know from all of you smart readers:
1) How ruthless should I be in the toy purge? Or, I guess, how do I decide what to keep? (I have the "well we may need that someday" syndrome)
2) What should I do with the toys I decide to get rid of?
3) What's your toy organization secret?
Basically, what works for you?
Because what we've got going on now… it doesn't work for anyone.
I can't wait to read your tips!
*****
For more Works for Me Wednesday (this week is a holiday edition!), visit We are THAT Family.