Today for the first time EVAH I'm participating in our pal Julia's "Hooked on" carnival at Hooked on Houses! Emily and I first met Julia when riding and elevator with her at IKEA randomly when we were on our IKEA adventure, then we reunited with her at BlissDom! She is good people, and you should totally read her blog. Especially if you like HOUSES.
But anyways, you don't have to be Hooked on Houses to participate in this carnival, which is good, 'cause here's what I'm hooked on: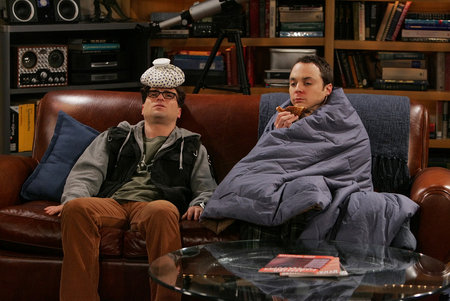 The TV show The Big Bang Theory on CBS. It is pretty much the funniest show in the history of the world! It's about two PhD physicists (Leonard and Sheldon) and their two other nerdy friends who live a nerdly existence playing HALO and reading comic books all the while living across the hall from a beautiful yet unattainable blonde wannabe-actress.
And it is HILARIOUS.
The writing is amazing, and the character of Dr. Sheldon Cooper (on the right in the photo) played by Jim Parsons is HYSTERICAL! Not only is he a nerd, he's a super-inflexible, OCD, narcissistic nerd with nary a social skill to be found. Or, as Leonard (played by Johnny Galecki) describes him, "Stuck between a rock and a crazy place."
My hubby and I love this show so much, we bought each other season one on DVD for Valentine's Day! Ahh, nerd love. Ain't it grand?
So, I'm HOOKED on Big Bang Theory on Mondays on CBS! What are you hooked on? To see what's got everyone else hooked, go visit Julia at Hooked on Houses!
Oh, and if you haven't yet, don't forget to check out this fun video I reviewed with Joshua!